This is part six of our 7-part series on how to increase ROI with CET, Stage and Design Studio. In this series, we go through several areas where companies can increase ROI and see tangible results using vetted design software.
When it comes to your company's data accessibility and ease, powering day-to-day work is more efficient and seamless using one source of information.
Data, in all the various forms and functions, are constantly evolving and changing. Data require diligent inspection and regular upkeep. We all know that data—big and little—matters, but most businesses aren't tapping into information's fullest potential.
take advantage of data
Businesses often overlook the power of data—specifically the way data are stored, reviewed and used to enhance business practices—when calculating ROI.
All technology solutions use and create data. SaaS solutions especially are ripe with a constant flow of data. In a perfect world, all that data coalesces into clear outcomes and tangible take-aways that ultimately help you reach business objectives and goals. But that is not always the case.
How well your company incorporates, assesses and enhances technology has a direct impact on your ROI. With the right tools in place, your data are clear, organized and interconnected—making day-to-day work seamless and big-picture strategy planning more relevant and forward-thinking.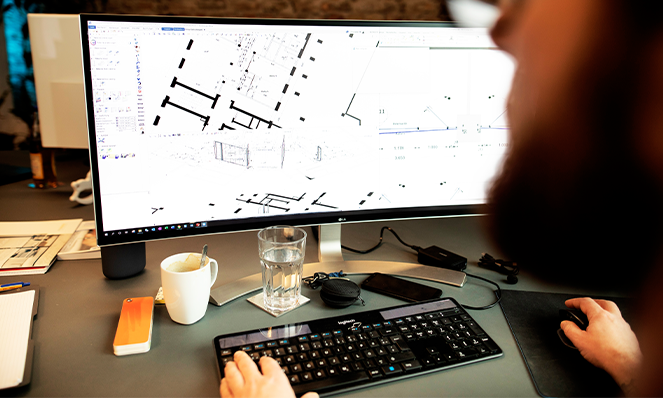 For example, pricelists require constant updating to accommodate promotions, new releases, the removal of retired products or to show a consumer if something is on back order or out of stock. There are a lot of data points that need to reach the right people at the right time regardless of where product or service information is located.
Companies that harness technology to reimagine how a business runs commit significant resources to ensure success. Small, incremental improvements are no longer the go-to step in technology adoption. Instead, the right solution is one that solves multiple problems and offers the kind of data that truly benefits a company, including their employees and customers.
"We have one solution for sales and interior design, and all our data are maintained in one platform. It's very efficient and has improved our communication, too." -Joonas Keskikallio, Business Concept Owner at Martela
The right data in the right place fuels the power for business to make better, faster decisions. In fact, high-performing organizations are three times more likely than others to say their data and analytics initiatives have contributed at least 20 percent EBIT (Earnings Before Interest and Taxes).
Data—when used efficiently and with intention—empowers the workforce, ignites innovation, captivates customers and improves a company's bottom line.
THE CONNECTION BETWEEN AN OMNICHANNEL APPROACH AND DATA CAPABILITY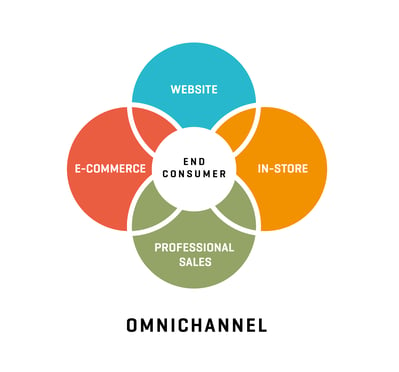 When you use an omnichannel approach, the inputting of new products or services—additional data in and of itself—acts as one source of information across all channels.
Omnichannel is good for:
Manufacturers because it streamlines processes and ensures data accuracy.

Designers, salespeople and engineers because they can have confidence that data is up-to-date and available to use accurately in current projects.

Consumers because regardless of where someone shops, products, service descriptions and availability remain prevalent and consistent.
In using one source as a launchpad for data, businesses have the power to reduce errors and catch mistakes in real time. Plus, companies can experiment more and iterate faster. And bonus, employees have access to tools that leave them feeling inspired and empowered—ultimately enhancing the overall customer experience.
When a company works within a digital-first strategy, decisions for new products and services happen quickly. An omnichannel approach takes everything one step further to ensure data are shared accurately across different channels.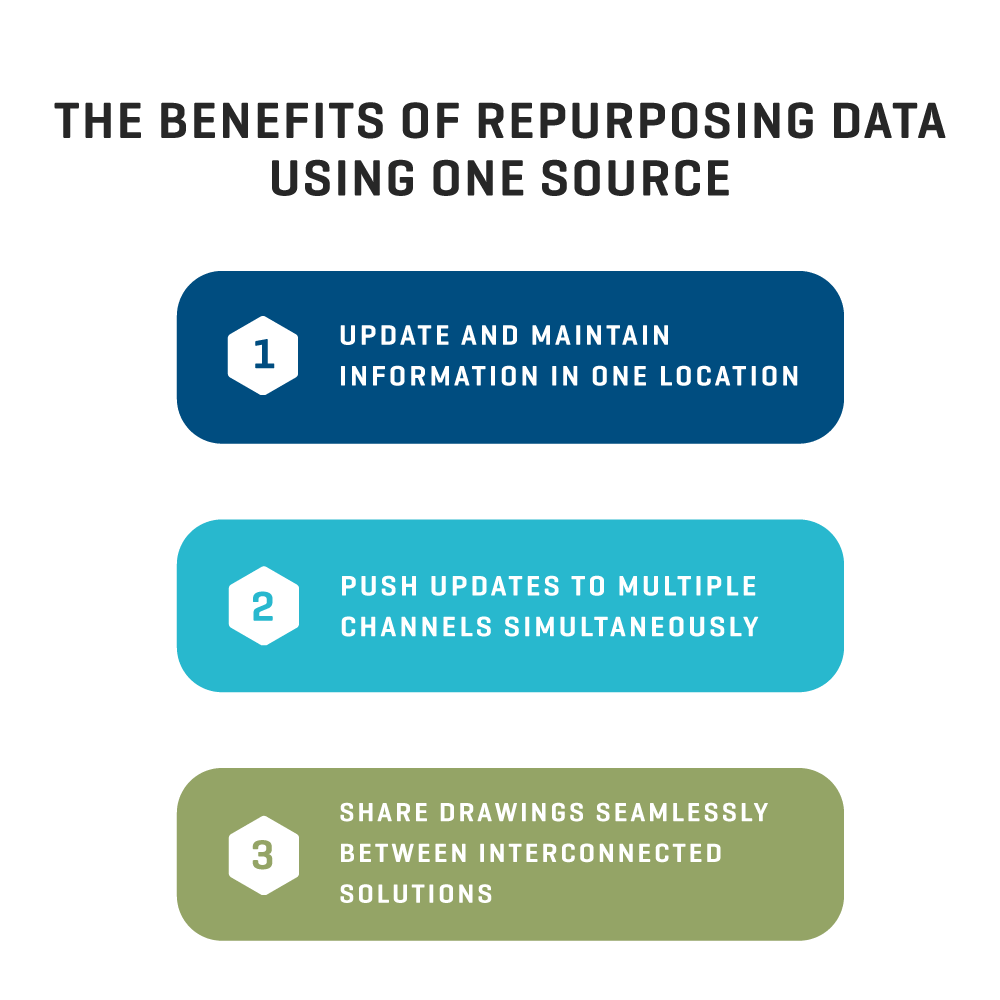 Companies lacking a focused data source increase the risk of error and inconsistencies—both of which are major issues in the Commercial Interiors, Kitchen & Bath and Material Handling space planning and design industries.
Find the best data solution with cet
With Configura's platform, the same data can be used in all our products and other external solutions. This means the data that power CET also powers our Stage and Design Studio solutions.
Configura's professional solutions are used by designers, salespeople, engineers, administrators, etc., in the Commercial Interior, Kitchen & Bath and Material Handling industries.
We use the same data in our consumer tools as in our professional tools—you only need to keep data updated in one place! Your ROI will be evident when you make the commitment to employ one source of truth as a focal point in your company's software technology strategy.
By adopting this roadmap, you change from your usual way of doing business to something far more efficient. By following this roadmap of How to adopt CET, the process will be efficient, enjoyable and, most important, successful!
MORE FROM The ROI SERIES
Previously, we walked you through how to how to find success with one solution that can do it all using an omnichannel approach; the rise of sustainable practices in the design industry and how the right software can reduce your company's carbon footprint; how the right software can help you get your newly hired talent up to speed quickly and efficiently; how to use technology to reduce human error; and outlined how to prioritize a customer centric approach that brings added value to your customers.
SUBSCRIBE to stay up-to-date on software news and trends
Subscribe to the Configura Blog to get notified whenever we post something new: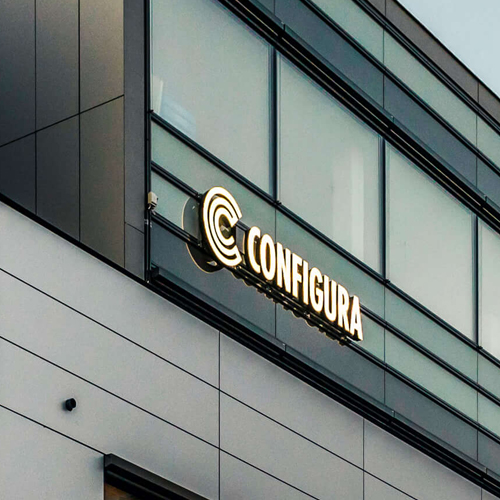 Configura
Founded in 1990, Configura Sverige AB creates software solutions that help businesses and people around the globe design spaces and sell configurable products in the commercial interiors, material handling and kitchen and bath industries. Configura's software products include CET Commercial Interiors, CET Material Handling, CET Kitchen & Bath, Design Studio, Stage and Spec. Configura also has a growing user community of thousands of designers, salespeople, dealerships and manufacturers around the globe that use Configura's products. Headquartered in Linköping, Sweden, Configura has grown to seven offices with commercial operations in Grand Rapids, Michigan, United States; Cincinnati, Ohio, United States; Kuala Lumpur, Malaysia; Shenzhen, China; Tokyo, Japan; and Berlin, Germany. Configura is privately owned with 300 employees worldwide and annual sales of more than $25 million USD.