This is part of a series of how to increase ROI.
In a previous blog post, our chief evangelist and co-founder, Johan Lyreborn talked about the IT food chain and emphasized how companies should prioritize customers over data.
Data by itself will not increase sales but it's a great a way to measure sales to help you make informed decisions in how to improve your process. What will truly give your company value is looking at the values you can provide to your customers and make that your priority.
Another misconception is that you can do more sales with more employees. This is true to a degree but believe it or not, hiring more salespeople is not always the best way to increase sales.
Instead, we would argue that some of the best sales strategies is utilizing technology to improve customer service, automate common tasks and visualization.
Here are three ways to begin your journey to becoming customer-centric:

1. Engage customers with visuals
How many times have you heard people say they're "a visual person"? Today, information is presented in faster and more simplified ways than ever before, making it increasingly harder to stand out in the clutter.
On top of that, people's attention span has according to recent studies fallen from 12 to eight seconds, so you don't have a lot of time to share your message.
With that knowledge in mind, do you think an Excel sheet or a blueprint drawing has what it takes to seal the deal?
A more efficient way to engage with customers is through visual tools. Most customers struggle to imagine what a future space will look like based on a 2D drawing and fabric samples.
Instead, giving a customer 3D drawings, renderings, 360-renderings, fly-through videos or virtual reality (VR) will give them a better understanding and ensure they can envision what their future space will look like.
360 rendering created in CET Commercial Interiors by Tyler Tjaden from Saxton.

2. Utilize technology to improve customer service
Today, customers are more informed than ever. With more resources at hand, a lot of research is typically done even before they raise their hand to talk to a salesperson.
One of the most common buzz-words these days is omnichannel – where manufacturers meet the customer where they're at and provide a seamless customer experience regardless of channel.
There's a reason why everyone is talking about this because by utilizing the right tools and creating an omnichannel solution, you can engage with buyers earlier in the sales process without the need to talk to a salesperson.
Inspiring your customers to play around and explore their ideas on their own terms will empower buying habits, shorten the sales cycle and reduce the number of resources needed to finalize the sale. Half of the job will be done by the customer!
3. Scale sales by automating common tasks
Last, you need to look over what tasks eats up the most time and how to automate them, or at least make them more efficient.
One area where many of our customers can save time and make the sales process more efficient is in the bidding and design process. Being able to draw live and make changes easily in front of a customer to bring their vision to life greatly lessens the number of revisions.
Live design has become a real concept thanks to CET, particularly in the commercial interiors industry and it's here to stay!
Live design:



Live design is when a salesperson or designer can sit together with the client to make changes together directly in the drawing to try ideas and land in a solution that works. This is very different from the traditional approach of sending suggestions back and forth with comments.
By shortening the sales cycle, you will enable your team to do more with less resources.
With this approach and the right tools in place, the same workforce can make their sales process more efficient, which in turn means they have more time to take on more bids and new projects.
Our customers have reported that project times have decreased from months to weeks, or from weeks to hours depending on the industry.
The key, however, is to take a customer-centric approach when initializing these changes into your organization. Focus on how to improve your customer services in the sales process rather than how to cut corners. This approach will ensure you will see a great return on investment over time and that you put your efforts and resources in the right place.

What other areas do you think can be improved with a customer centric approach? Comment below or reach out to us to discuss more!
SUBSCRIBE FOR MORE CONTENT LIKE THIS
Subscribe to the Configura Blog to get notified whenever we post something new: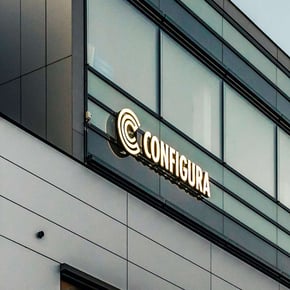 Configura
Founded in 1990, Configura Sverige AB creates software solutions that help businesses and people around the globe design spaces and sell configurable products in the commercial interiors, material handling and kitchen and bath industries. Configura's software products include CET Commercial Interiors, CET Material Handling, CET Kitchen & Bath, Design Studio and Stage. Configura also has a growing user community of thousands of designers, salespeople, dealerships and manufacturers around the globe that use Configura's products.

Headquartered in Linköping, Sweden, Configura has grown to seven offices with commercial operations in Grand Rapids, Michigan, United States; Cincinnati, Ohio, United States; Kuala Lumpur, Malaysia; Shenzhen, China; Tokyo, Japan; and Berlin, Germany. Configura is privately owned with over 250 employees worldwide and annual sales of more than $23 million USD.