CAREERS
WILL YOU BE OUR NEXT RISING STAR?
Do work that makes a difference
Here at Configura, we call ourselves Configurans. We're problem-solvers, team players and innovators.
Guided by our core values, we're proud to offer a collaborative culture where you are empowered to share ideas and own your work. Together, we create software that helps people and companies around the globe design spaces with ease and precision while making a positive environmental impact.
People are at the heart of what we do. We care about our employees and we believe diverse cultural perspectives encourages new ways of thinking and drives our innovation. While we work in seven offices across three continents, we're one Configura.
TEAM PLAYER
INNOVATIVE
COMMITTED
TEAM PLAYER
Working across time zones and three continents, Configurans are team players who are committed to providing the best possible experience for our CET community.
Curtis Kuipers, a Senior Support Specialist, became a Configuran in 2015 working in the Grand Rapids, Michigan office. After spending time traveling around the globe connecting with other Configurans and customers, he and his wife relocated to Sweden in 2020.
"Configurans are problem solvers and we're focused on making CET Designer even better for our users. Our goal is to provide the same kind of experience regardless of the location," Kuipers said. "Even though I am working in Sweden, I could be helping someone in Tokyo with a question. We're lucky that technology makes it so easy to connect with people."
Being team players at heart, Configurans value connecting with each other and helping their colleagues.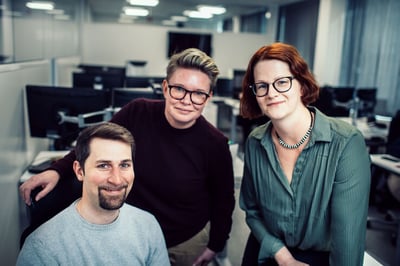 Andreas Lippmann, Hanna Fägersjö and Sara Schill Saran
Alice Tan, a Senior Quality Assurance Analyst in the Kuala Lumpur office, also says Configurans are helpful and there for each other.
"Configurans are highly capable and also very easy to work with," Tan said. "As I've traveled to different offices, I've created strong bonds with my colleagues. Regardless of which office you visit, you feel welcomed and can quickly get back into the rhythm of working."
When you join Configura, you become part of a team that cares about your success and you work with people who are there to help you along the way.
INNOVATIVE
Configurans bring unique skills, experiences and cultural perspectives from around the globe that encourages new ways of thinking. Working together, Configurans dare to explore the unknown and innovate long-lasting solutions.
"Configura encourages employees to take risks," Hampus Andersson, a Senior Developer on the product team, said. "We are all challenged to improve and grow. Sure, sometimes you fail while you're innovating, but that's part of the process."
Andersson joined Configura in 2016. He says Configura's culture encourages innovation by offering a space where employees can own their projects and collaborate together.
"At Configura, you're given a compass rather than a map," Andersson said. "For example, our team is given goals, and then we determine together how we will achieve those goals. We get to set up our own process and workflow, which is an opportunity I don't think you get at many other companies."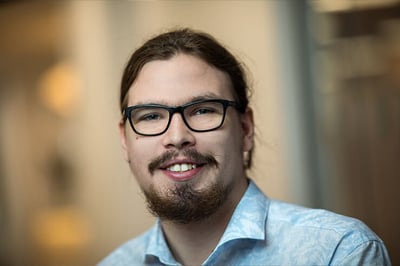 Hampus Andersson
Configurans are also motivated by solving problems. Henrik Phung, a Developer in the product department, says that Configura's focus on continuous improvement and finding solutions makes it a rewarding place to work.
"We have so many more opportunities to learn and grow thanks to Configura's innovative culture. Since we are a small but growing company, you get the opportunity to solve problems and see it through. It's such a nice feeling when you succeed with something and it was your responsibility."
Configura's culture of openness fosters an environment where employees feel comfortable sharing ideas and innovating together. Andersson adds that even though Configura is growing, it has kept its hunger for innovation and spirit of a startup.
COMMITTED
Whether they're coding, training users or connecting with customers, Configurans are committed to generating value and providing the best experience for our CET community. In fact, many of our Configurans have built long-term careers with us because of their passion for helping people around the globe design better spaces.
Emma Johansson started at Configura while completing her thesis and was later hired as a Developer. As her skill set and interests in Configura grew over time, she advanced to a Scrum Master and Project Manager. Today, Emma is a Group Manager in the Linköping, Sweden office.
"There is always a strong team of committed people coming together to make innovation happen here. As a Group Manager, I love being able to support and develop our people. I believe in the power of strong teams to solve problems and complete challenging and innovative projects."
Configura is comprised of team players who are committed to helping one another create smart solutions to tricky problems. We develop our projects and work closely with other company functions spread throughout the world to ensure our customers and end-users have the best possible software and services.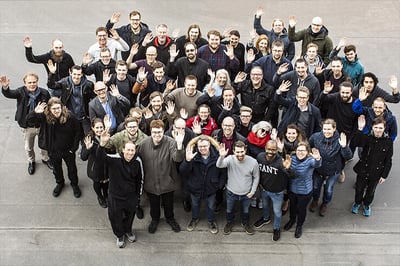 Group photo of Configura employees in Linköping
Global Head of Sales Kitchen & Bath Industry, Brooke Snow, who has been at Configura since 2013, is passionate about helping Configura and its CET community succeed.
"There are many things I love about my job, but one of the best things is knowing I'm making a difference for our Partners and users of our software. I truly love seeing organizations succeed by using our product and it's rewarding to be part of that journey."
In Swedish, there's a word called "prestigelös" which can be translated as "prestigelessness". The Swedish word means to be humble, open and genuine. Prestigelös is infused throughout Configura's culture, which inspires employees to continuously innovate and work for the greater good of the company.
Sara Schill Saran is a Technical Writer who has been with Configura for 10 years and says Configura's "prestigeless atmosphere" encourages dedication and teamwork across the company.
"Here at Configura, people help each other out, put prestige aside and pitch in, and I think that's one of our major strengths as a company. We're all in this together and each of us brings unique skills and experiences that support the success of Configura and our CET community."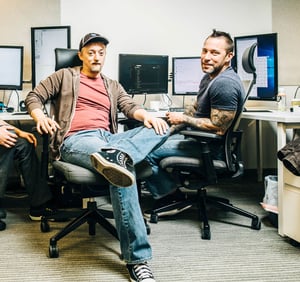 TOUCH
283 EMPLOYEES
283 EMPLOYEES
SWEDEN, 41%
MALAYSIA, 28%
USA, 25%
CHINA, 5%
GERMANY, 1%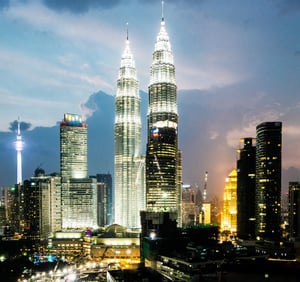 TOUCH
AVERAGE AGE
AVERAGE AGE
19–29, 37%
30-39, 39%
40–49, 17%
50–59, 6%
60–69, 1%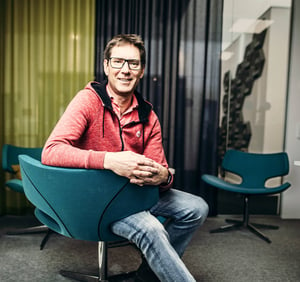 TOUCH
COMPANY FUNCTIONS
COMPANY FUNCTIONS
PRODUCTION, 29%
PRODUCT, 24%
CUSTOMER SUCCESS, 20%
SALES AND MARKETING, 11%
IT & FINANCE, 9%
PEOPLE, 7%
LINKÖPING, SWEDEN
BERLIN, GERMANY
SHENZHEN, CHINA
KUALA LUMPUR, MALAYSIA
TOKYO, JAPAN
GRAND RAPIDS, UNITED STATES
CINCINNATI, UNITED STATES
LINKÖPING, SWEDEN
Configura got its start in this tech-savvy university town in 1990. Today, our headquarters houses over 100 Configurans in our newly renovated office on Storgatan in central Linköping. In this office, you'll find Configurans who work in:
Consulting

R&D

Quality Assurance

Support & Training

Sales & Marketing

Web

IT

Finance

HR
Our Linköping office is where our global team's "fika" tradition started, which is Swedish for "coffee break." Every Friday, you'll find Configurans connecting and catching up over coffee. Recreation is also important for our Configurans and after work, you'll find teams doing a fitness class together, playing a friendly game of ping pong or hosting game nights.
BERLIN, GERMANY
We opened our Berlin location in 2019 because of its proximity to the rest of Europe. This office focuses primarily on sales and building relationships with customers in the material handling industry.
Our Berlin team finds balance between work and play with kicker table (also known as foosball), Monday breakfast and of course, copious amounts of coffee and fresh fruit at the office.
SHENZHEN, CHINA
Located across the Pearl River estuary from Hong Kong is the bustling city of Shenzhen, China. We launched our office here in 2017 which has already grown to be the home of more than 10 Configurans. In this office, you'll find Configurans who work in:
Consulting

Support & Training

Sales & Marketing

Finance
Our Shenzhen Configurans enjoy fika on Fridays and monthly activities like bowling, bouldering and archery. There's also a badminton team that plays every week and you can find board game nights happening after hours, too.
KUALA LUMPUR, MALAYSIA
We expanded to Asia in 2012 and opened our first location in Kuala Lumpur. Since then, our team has grown to over 70 Configurans. In this office, you'll find Configurans who work in:
Consulting

R&D

Catalogue Production

Quality Assurance

Support & Training

Web

Finance

HR
Our Kuala Lumpur team stays connected with a weekly fika breakfast on Fridays. When these Configurans aren't working, you can find them playing badminton, rock climbing or cycling. You'll also find game nights and ping pong tournaments happening after hours.
TOKYO, JAPAN
As part of our growth plan, Configura has established an office in Tokyo, Japan in 2021 to expand our footprint in Asia outside of Malaysia and China. This office focuses on sales, Implementation capacity, and building relationships with customers in Japan.
GRAND RAPIDS, UNITED STATES
Located in downtown Grand Rapids – also known as "Furniture City" – our North America office opened in 2005 and here you'll find over 50 Configurans. In 2017, we relocated to two floors in the Blue35 Building where we designed the space in true Configura spirit – using our own software. In this office, you'll find Configurans who work in:
Consulting
R&D
Support & Training
Sales & Marketing
Finance
HR
Our Grand Rapids Configurans enjoy a fika breakfast on Fridays. You'll also find Configurans at team lunches, exercising together, hosting game nights or unwinding with a game of ping pong or pool. The Grand Rapids team's Funmittee hosts social activities like video game club, book club and music club to name a few, as well as social events for Configurans and their families.
CINCINNATI, UNITED STATES
We are excited to officially call our partners and friends at ProjectMatrix, Configurans! In September 2021 Configura and ProjectMatrix decided to join together as one and continue to support our user base, but now with the ability to offer more support and solutions. Through this acquisition Configura has expanded and now has a second office in the states!
You can find our Cincinnati team having lunch together while out at one of the famous Cincinnati chili restaurants – a staple in the city! After feasting on sweet chili you will find them trying to learn more about our Swedish traditions.