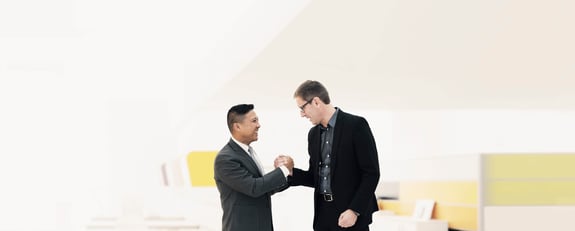 BECOME A
PARTNER
WHEN OPPORTUNITY KNOCKS
BE AN INTEGRAL PART OF DEVELOPMENT
Many of the companies we work with are more than our customers – they're our partners. Together, we work to create a network of specialists and be a driving force in innovative software development.
Partnering with us is a business opportunity for both manufacturers and software consultancy service providers around the world. As a partner, you get access to a large network of industry professionals and can have your own developers work on our platform. The platform includes all the tools needed to create innovative software solutions for CET.
Benefits as a Service and Development Partner:
EARN MONEY ON A LONG-TERM STRATEGY

Implementing and mantaining content for customers is potentially a long-term commitment. Configura still helps customers after 30 years of service. This means business stability and excellent growth potential.

GROW YOUR BUSINESS

Service and Development Partners bring in their own business which means you choose how much work to take on and who to work with. You have the freedom to grow your business your way.

OFFER MORE SERVICES

By learning development on our platform, you can offer a wider range of consultancy services to your current and future customers.
Create Extensions for CET by using our tools
CET Developer
and
Catalogue Creator
.
Attend some of our many
training opportunities
and gain access to support and developer documentation.
Participate in annual networking events like our Partner Meetings, Developer Conferences and CET Experience.

SERVICE AND DEVELOPMENT PARTNERS
Achieve innovation and success through partnerships. Our platform is driven by
innovative companies coming together to add value through development.
JOIN THE FAMILY
ARE YOU OUR NEXT PARTNER?