TONE OF VOICE
EXTERNAL COMMUNICATION
Interacting with Configura, CET or any of our other brands is an opportunity to help spread our message and innovations. We encourage employees, partners, users and others to interact with our brands on social media and include us in press releases, advertising and other promotional material but ask you to follow our guidelines.
Always use the correct and full name of the brand
Use the correct brand and logo for your purpose, view Assets
Always be clear about your relationship to Configura, CET or any other brands
Use our boilerplates when applicable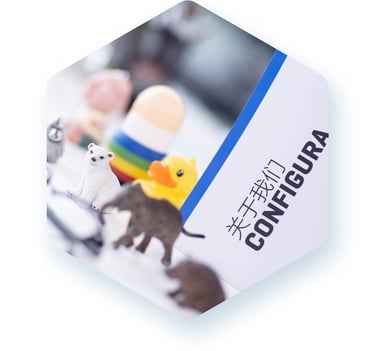 Reach out to your local Configura office to help with quotes and to give us an update that you are pitching stories to the media.
TOUCH
Progressive
We dare to go our own way, to think differently and see opportunities. We are innovators with new ways of working and thinking. We move forward with courage and strong will.
TOUCH
Straightforward
We are straightforward and do not complicate our communication with fancy words. We try to say as much as possible with as few words as possible. We avoid multiple messages in our communication, focusing instead on a single message.
TOUCH
Open-minded
We have a permissive internal culture of openness and curiosity. We collaborate internally and externally and seek input from others.
TOUCH
Personal
Behind everything that we have created are real people. We are curious about and interested in our partners and users. We approach and portray our partners, users and employees in a personal way.
TEXT POLICY
Focus on the customer in communication by addressing them directly. "You" is the preferred way to address a customer in our communication.
When talking about the company, Configura, always use a personal approach by writing "We at Configura" or "We". Try to avoid talking about Configura in third person unless the message is delivered from a third party.
Dare to make a statement by choosing bold words in written communication that delivers confidence and conveys forward-thinking.
Avoid long sentence structures, complicated words and passive tense. Say what you need to say in as few words as possible.
Be sure to follow a common theme in your writing. Focus on one main message in the same promotion. Avoid multiple messages.
Write on the same level as your readers, be open to feedback, seek permission and give credit when using materials created by others.
SOCIAL MEDIA CHANNELS
Join the conversation using the appropriate hashtags:
#configura
#configurans
#cetsoftware
#cetexperience