STAGE
Integrate a single product configurator into your website or application using existing Catalogue data.
UBIQUITOUS
CONFIGURE PRODUCTS DIRECTLY IN YOUR WEBSITE OR APP
Using our Application Programming Interface (API) easily embed our web configurator into an existing website, online store front or mobile app. You and your customers can access your product across multiple devices such as laptops, tablets and mobile devices.
Give me a spin, literally!
LEAN AND GREEN
ONLY PAY FOR WHAT YOU USE
Billed annually, the cost of this service is split into two parts: a fixed access fee for API and SDK access and dynamic usage. Which means you:
Only pay for the data being used
Use less, pay less
No waste

"OFS' WEB CONFIGURATOR ALLOWED OUR PROPOSAL TO SHOW EXACTLY WHAT THE CLIENT WOULD GET AND EXPLORE COLOR PALETTES... IT'S THE BEST THING SINCE SLICED BREAD."
Hannah Champion, Workplace Consultant at Coakley Brothers and Brothers Interiors
<INSERT YOUR BRAND HERE>
MAKE IT YOUR OWN
Customize the look and capabilities of your product configurator using our Software Development Kit (SDK). Seamlessly apply your brand to your configurator or turn it into a shop. There are endless possibilities for presenting your products on the web.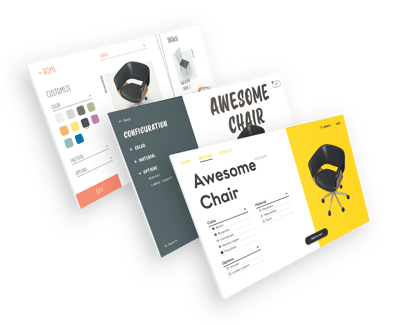 LET'S TALK
GET STARTED RIGHT AWAY