GRAND RAPIDS, USA—November 4, 2022 — Configura held its annual CET Experience on Oct. 26-27 at the DeVos Place convention center in Grand Rapids, Mich. The event was also streamed virtually to accommodate its global community. CET Experience 2022 had over 1,200 registered participants and 322 in-person attendees from all over the world, including the Cayman Islands, Malaysia, Sweden and more.
This year's CET Experience has left its community members energized and inspired. The experience offered 54 educational presentations, elevating collaboration, expansion and creativity.
"This year, we hosted a hybrid event and we are ecstatic about how everything went," said Kelsey DeBruin, Global Head of User Community and Events. "Our keynote speakers inspired us to reset and adopt creativity in our day-to-day and the breakout sessions led by talented CET users left everyone feeling energized and poised to design epic spaces now and in the future."
Anecdotes from 2022 CET Experience Attendees
"The fact that a single program can do beautiful renderings, provide accurate calculations and go to order in a very short amount of time is impressive," said Stefanie Murphy from Full Circle. "It is a privilege to be a CET Power User within the manufacturing industry. I'm excited to see the progression of CET Extensions, making the platform more coherent for a seamless experience."
Other users highlighted CET's flexibility.
"I have been using CET for the past six years as a designer and it enables flexibility in creating commercial projects in an efficient manner," said Chirag Patel from Contemporary Officer Interiors. "Since I started using it, I have seen growth within the community. Now, more designers and companies are using the technology. Seeing different manufacturers starting to embrace CET is cool."
And others applauded new features added to CET for the community.
"Part tagging has been a crucial feature to what I do since there is a lot of content in material handling. It allows data to look neat and tidy. It is a lifesaver," said Kim Mayers, a senior controls designer from Dematic. "I am looking forward to seeing CET in the material handling industry since this tool can be a benefit not only to engineers but to sales teams and customer experience leaders, too."
CET Awards 2022 Winners
The CET Awards honor talented professionals who have created outstanding and innovative spaces using CET. First, second and third-place honors were awarded. View the official submissions of the 2022 winners and runners-up online. The first-place winners included:
Rendering
Chelsea Bonsant, Contemporary Office Interiors
Student Rendering
Kaitlyn Dorey, Eastern Michigan University
Video
Lauren Stepantschenko, Storr Office Environments Inc.
360 Panorama
Drea Piper, Workspace
Success Story
Nikki Sweigard, Sheppard's Business Interiors
Innovative Extension
Anna Creek, HNI Workplace Furnishings
Next year, the 17th annual CET Experience will take place October 9-10, in Scottsdale, Arizona. Learn more at CET Experience.
Subscribe to Configura News to get notified whenever we post something new: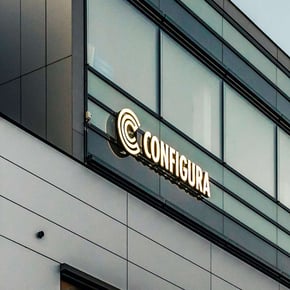 Configura
Founded in 1990, Configura Sverige AB creates software solutions that help businesses and people around the globe design spaces and sell configurable products in the commercial interiors, material handling and kitchen and bath industries. Configura's software products include CET Commercial Interiors, CET Material Handling, CET Kitchen & Bath, Design Studio and Stage. Configura also has a growing user community of thousands of designers, salespeople, dealerships and manufacturers around the globe that use Configura's products.

Headquartered in Linköping, Sweden, Configura has grown to seven offices with commercial operations in Grand Rapids, Michigan, United States; Cincinnati, Ohio, United States; Kuala Lumpur, Malaysia; Shenzhen, China; Tokyo, Japan; and Berlin, Germany. Configura is privately owned with over 250 employees worldwide and annual sales of more than $23 million USD.