LINKÖPING, SWEDEN—October 13 2022 — Configura and imos AG are proud to announce a new strategic partnership benefiting the European and North American space planning and design markets. Combining Configura's world-class parametric graphical configuration platform, CET, with industry-leading imos iX parametric manufacturing solution benefits both designers and manufacturers.
The demands of processing and machining quality furniture and accessories based on renderings are no small task. Sometimes, things get lost between design and production. Combining CET and imos iX is a match for success. Now final designs and renderings can go further when data is exported from CET into imos iX for the necessary manufacturing production that comes prior to on-site installation.
"This powerful partnership enables final designs and renderings to go further," said Configura CEO Stefan Persson. "When users export CET data into imos iX, they can seamlessly carry designs to production, giving accurate counts and materials necessary to produce products for installation. This is a huge time saver for everyone involved. It practically eliminates design and calculation errors—and, importantly, reduces manufacturing waste from errors in manufacturing."

Here is the impact:
CET Users can easily design by using a volume for the area, change heights, choose between different types of drilling, change colors, add a power cord application hole and more.

All data are parametric. After CET provides the order information to imos iX, the import starts in an automated and monitored process.

All technical details such as materials, fittings and design information are evaluated and assigned to imos iX.

Due to the consistent data model, subsequent changes to all details such as materials or profiles, are possible.

All data are stored in a central database.
Using CET and imos iX, designers can draw a client's dream kitchen or office space, bring it through to production and prepare it for delivery and installation in record time.
Where CET provides the ability to configure great spaces and finalize a bill of materials, the addition of imos iX supports the manufacturing process—offering consideration and calculation for all aspects of each product, including design accessories like taps and washbasins or plumbing, electric and lighting options. Data are prepared for the various machine manufacturers and types.
About Configura
Configura creates intelligent space-planning software for manufacturers, dealers and designers in the Contract Furniture, Kitchen and Bath, Material Handling, Industrial Machinery, and Laboratory and Healthcare industries. The company's software products, including CET Designer, are used by more than 14,000 people around the world. Configura Sverige AB, the parent company, is headquartered in Linköping, Sweden, with commercial operations in Gothenburg, Sweden; Grand Rapids, Michigan, USA; Cincinnati, Ohio, USA; Kuala Lumpur, Malaysia; Shenzhen, China; Tokyo, Japan; and Berlin, Germany. Founded in 1990, Configura is privately owned with over 300 employees worldwide and annual sales of more than $25 million USD.

More information at www.configura.com.
About imos AG
imos AG develops and distributes software solutions for furniture and interior manufacturing worldwide. It's software solution imos iX connects all essential work steps from sale and design to production and assembly to a continuous and efficient process – with one standardized database in the whole process.
More information at www.imos3d.com.
Subscribe to Configura News to get notified whenever we post something new: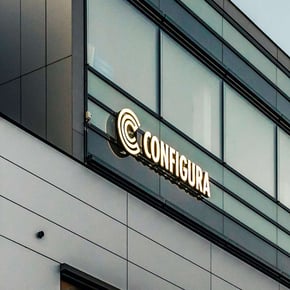 Configura
Founded in 1990, Configura Sverige AB creates software solutions that help businesses and people around the globe design spaces and sell configurable products in the commercial interiors, material handling and kitchen and bath industries. Configura's software products include CET Commercial Interiors, CET Material Handling, CET Kitchen & Bath, Design Studio and Stage. Configura also has a growing user community of thousands of designers, salespeople, dealerships and manufacturers around the globe that use Configura's products.

Headquartered in Linköping, Sweden, Configura has grown to seven offices with commercial operations in Grand Rapids, Michigan, United States; Cincinnati, Ohio, United States; Kuala Lumpur, Malaysia; Shenzhen, China; Tokyo, Japan; and Berlin, Germany. Configura is privately owned with over 250 employees worldwide and annual sales of more than $23 million USD.