GRAND RAPIDS, MI, USA—March 16, 2023— The world's leading space planning software, Configura, expands its robust Commercial Interiors (CI) Library in Q1 2023 by adding two manufacturers under its CET umbrella. Including a wide array of manufacturers in the library enables users to have seamless access to quality resources, products and processes.
"Partnering with the right manufacturers is important to us," said Stefan Persson, CEO of Configura. "As we strive to provide the most comprehensive library with seamless design capabilities, our top priority is to continue adding resources that align with our users' visions."
With more than 200 manufacturers already in the Configura library, users can accurately and confidently bring drawings and rendering visions to life.
Here are the two new manufacturers now included in Configura's CI Library:
Framery: Framery offers soundproof office phone booths, pods and private spaces to solve noise and privacy issues in open office environments, making employees happier and more productive in dozens of the world's leading companies, including Microsoft, Puma and Tesla. In fact, 40 percent of all Forbes 100 companies are using Framery. The CI Library now includes 400 Framery SKUs.
FireKing: Engineered to meet the highest industry standards, FireKing's file cabinets, storage cabinets and safes are trusted in homes, offices, retail and commercial spaces around the world. Its range of industry-leading products include professional-grade protection shielding documents, data, priceless family belongings and more in the event of a fire or theft. The CI Library now includes 29 FireKing SKUs.

Configura's CI Library was developed to empower designers and salespeople through a competitive advantage by allowing them to access a massive library of supplemental data. The Library allows CET Commercial Interiors users to produce high-quality drawings and detailed product listings to use for quotes, design layouts, renderings and sales documents.
A CET Commercial Interiors license is required to gain access to the complete CI Library available in the Marketplace on MyConfigura. For additional information, visit configura.com/products/cet/commercial-interiors/library.
###
About Configura
Configura creates intelligent space-planning software for manufacturers, dealers and designers in the contract furniture, kitchen and bath, material handling, industrial machinery, and laboratory and healthcare industries. The company's software products are used worldwide. Configura Sverige AB, the parent company, is headquartered in Linköping, Sweden, with commercial operations in Grand Rapids, Michigan, USA; Cincinnati, Ohio, USA; Kuala Lumpur, Malaysia; Shenzhen, China; Tokyo, Japan; and Berlin, Germany. Founded in 1990, Configura is privately owned with 300 employees worldwide and annual sales of more than $25 million USD. More information at www.configura.com.
About CET Commercial Interiors
CET Commercial Interiors brings designers, salespeople and dealerships together into one software to design, specify and visualize products for commercial spaces using real products and pricing. Based on technology created by Configura, CET is an intelligent, highly visual and intuitive space-planning software that simplifies specifying and selling of products in a variety of industries. It's a complete solution that quickly and accurately handles every step of the sales and order process. With environments developed for Commercial Interiors, Kitchen & Bath and Material Handling, the software components represent manufacturers' products look and behave like actual products. Users drag and drop components into 2D and 3D virtual environments and behind the scenes, the software tracks components, calculates pricing and prevents user errors. Users can create and generate layouts, quotes, photorealistic renderings, movies, installation drawings, reconfigurations and bills of materials – in other words, everything needed to propose on work and place orders. CET is the future of space planning. More information at Commercial Interiors | Configura.
Subscribe to Configura News to get notified whenever we post something new: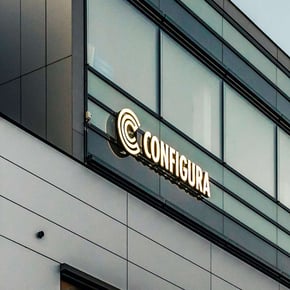 Configura
Founded in 1990, Configura Sverige AB creates software solutions that help businesses and people around the globe design spaces and sell configurable products in the commercial interiors, material handling and kitchen and bath industries. Configura's software products include CET Commercial Interiors, CET Material Handling, CET Kitchen & Bath, Design Studio and Stage. Configura also has a growing user community of thousands of designers, salespeople, dealerships and manufacturers around the globe that use Configura's products.

Headquartered in Linköping, Sweden, Configura has grown to seven offices with commercial operations in Grand Rapids, Michigan, United States; Cincinnati, Ohio, United States; Kuala Lumpur, Malaysia; Shenzhen, China; Tokyo, Japan; and Berlin, Germany. Configura is privately owned with over 250 employees worldwide and annual sales of more than $23 million USD.