LINKÖPING, SWEDEN — April 24, 2023 — Jungheinrich AG chose Configura to be a strategic partner for the development of various product and system configurators for highly complex customer solutions for its logistics systems division. The aim is to jointly establish an all-in-one plant-design-solution for customer projects which cover Jungheinrich's entire process from initial planning to calculation and the creation of a bill of materials.
"Configura has officially been awarded the contract as the central software solution for the 'System CPQ' topic at Jungheinrich, which covers our fully automated intralogistics solutions and several other products," said Dr. Florian Kuzmany, Head of Business Tools Sales Warehouse & Automation Projects at Jungheinrich.
The cooperation between Jungheinrich and Configura began in 2020, starting with a pilot project for the configuration of automated pallet racking systems. With the latest development in this strategic collaboration, further racking systems as well as materials handling components will be added to Configura's CET Material Handling planning software, providing Jungheinrich's sales department with an efficient, intuitive and cross-product project planning solution.
"We value Jungheinrich's continued commitment to Configura," said Rich Trahey, VP Sales & Marketing at Configura. "This strategic collaboration enables Jungheinrich to take full advantage of our software ecosystem—allowing them and their network of partners to concept and engineer warehouse systems with speed, accuracy and efficiency."
###
About Jungheinrich AG
As one of the world's leading providers of intralogistics solutions, Jungheinrich has been advancing the development of innovative and sustainable products and solutions for material flows for 70 years. As a pioneer in the sector, the Hamburg-based family business is committed to creating the warehouse of the future. In 2022, Jungheinrich and its workforce of about 20,000 employees generated revenue of 4.76 billion euros. The global network covers 11 production plants and service and sales companies in 42 countries. The share is included in the MDAX.
Configura creates intelligent space-planning software for manufacturers, dealers and designers in the contract furniture, kitchen and bath, material handling, industrial machinery, and laboratory and healthcare industries. The company's software products are used worldwide. Configura Sverige AB, the parent company, is headquartered in Linköping, Sweden, with commercial operations in Grand Rapids, Michigan, USA; Cincinnati, Ohio, USA; Kuala Lumpur, Malaysia; Shenzhen, China; Tokyo, Japan; and Berlin, Germany. Founded in 1990, Configura is privately owned with 300 employees worldwide and annual sales of more than $25 million USD. More information at www.configura.com.
About CET Material Handling
Based on technology created by Configura, CET Material Handling is an intelligent, highly visual and intuitive space-planning software that simplifies specifying and selling of products for the material handling industry. It's a complete solution that quickly and accurately handles every step of the sales and order process. Symbols represent manufacturers' products and look and behave like actual products. Users drag and drop components into 2D and 3D virtual environments and behind the scenes, the software tracks components, calculates pricing and prevents user errors. Users can create and generate layouts, quotes, photorealistic renderings, movies, installation drawings, reconfigurations and bills of materials – in other words, everything needed to propose on work and place orders. CET Material Handling is the future of space planning.
Subscribe to Configura News to get notified whenever we post something new: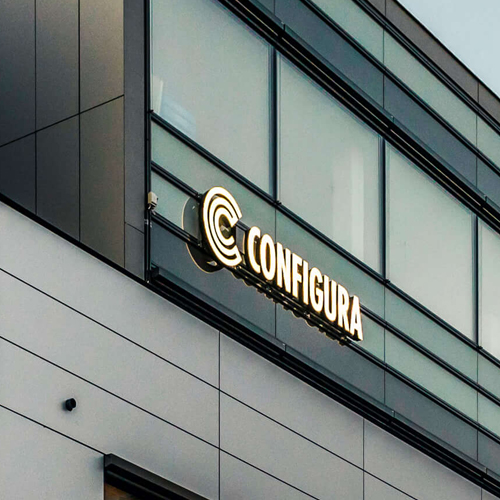 Configura
Founded in 1990, Configura Sverige AB creates software solutions that help businesses and people around the globe design spaces and sell configurable products in the commercial interiors, material handling and kitchen and bath industries. Configura's software products include CET Commercial Interiors, CET Material Handling, CET Kitchen & Bath, Design Studio, Stage, Spec and more. Configura also has a growing user community of thousands of designers, salespeople, dealerships and manufacturers around the globe that use Configura's products.

Headquartered in Linköping, Sweden, Configura has grown to seven offices with commercial operations in Grand Rapids, Michigan, United States; Cincinnati, Ohio, United States; Kuala Lumpur, Malaysia; Shenzhen, China; Tokyo, Japan; and Berlin, Germany. Configura is privately owned with over 300 employees worldwide and annual sales of more than $25 million USD.