GRAND RAPIDS, MICH., USA—Sept. 15, 2022 — Configura presents another innovative software solution to simplify the operations of material handling. The launch of the Essential Pallet Racking solution, debuted at LogiMat 2022, significantly accelerates the sales and design process with intuitive placement and calculations of pallet racking systems.
"This Essential Pallet Racking feature was developed to accommodate everyone in material handling operations," said Configura CEO, Stefan Persson. "Users gain a complete solution from creating bills of materials and schematics with specificity, presentation and real-time collaboration in one design drawing."
By utilizing storage components and the built-in calculations, this pallet racking solution allows users to insert pallet racks in the design drawings as a placeholder while exporting product counts and schematics for accurate pricing. In addition, to allow designers and decision-makers to visualize the space better, the 3D component of CET offers realistic photo-like renderings. It's a true all-in-one software.
The essential pallet racking solution was developed for 3PLs, integrators, smaller manufacturers and warehouse managers for both greenfield (new warehouses), as well as brownfield (renovation) projects. The update offers designers the ease of designing spaces with specifications in mind. Users can now experience the upgrade for free with a CET Material Handling license.
Subscribe to Configura News to get notified whenever we post something new: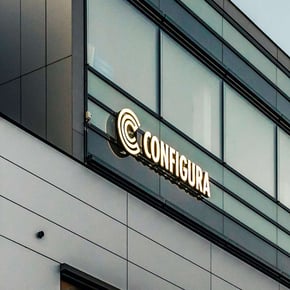 Configura
Founded in 1990, Configura Sverige AB creates software solutions that help businesses and people around the globe design spaces and sell configurable products in the commercial interiors, material handling and kitchen and bath industries. Configura's software products include CET Commercial Interiors, CET Material Handling, CET Kitchen & Bath, Design Studio and Stage. Configura also has a growing user community of thousands of designers, salespeople, dealerships and manufacturers around the globe that use Configura's products.

Headquartered in Linköping, Sweden, Configura has grown to seven offices with commercial operations in Grand Rapids, Michigan, United States; Cincinnati, Ohio, United States; Kuala Lumpur, Malaysia; Shenzhen, China; Tokyo, Japan; and Berlin, Germany. Configura is privately owned with over 250 employees worldwide and annual sales of more than $23 million USD.