GRAND RAPIDS, Mich., USA—August 22, 2023—Configura is pleased to announce the launch of its quarterly update release, CET 14.0 Minor. The new offerings in the update improve the user experience through innovative project tools and further establishes Configura as a market leader in the commercial interiors and material handling industries.
What's new in CET 14.0 Minor?
New Catalogue Downloader Tool: To reduce maintenance, upkeep development time and to improve its scalability, Configura reworked the Catalogue Downloader that CET uses. This tool was optional for users in the May 2023 release, and will now be the default in the CET 14.0 minor release.
More Sliding Doors: With the rising trend in barn doors and pocket doors, Configura added in the ability to include double pocket doors, stacking patio doors and double track/rail doors to designs.
Extended Functionality for Images on Walls: Users no longer need to type in specific dimensions when adding images to walls. Quickly select from several standard sizes, add matting, pick frame materials and orientation with only a few clicks.
CET Papers: Not only is CET Papers becoming increasingly faster and more accurate with ongoing efforts, we have also added the ability for users to use their own unique, installed fonts, to help improve dealership branding.
Photo Lab: Configura enhanced the post-processing tools, increasing efficiency in Photo Lab and improving the quality of renderings, along with the speed and functionality of renderings when using the Render Server.
"With the launch of CET 14.0 Minor, Configura aims to be a leading solutions provider for commercial interior and material handling design," said Rich Trahey, VP of Global Sales & Marketing at Configura. "These frequent updates give our users the tools and resources needed to create the highest quality designs and plans for modern commercial and industrial spaces."
New updates to CET Material Handling
With the release of CET 14.0 Minor, users can now purchase a more robust version of CollabPro. The new updates add on to the previous released version by increasing functionality and allowing for more users and storage than previously available. Real-time collaboration gives users and manufacturers a competitive edge that contributes to a streamlined workflow by allowing for better information access, increased tracking and transparency, and increased efficiency and productivity.
"With CollabPro, users can now work simultaneously with up to 15 people on a project at the Enterprise level and control who has access to projects and the degree to which they can manipulate them," continued Trahey. "The original version of CollabPro has been available on Marketplace for CET Material Handling, but the new iteration adds to the growing versatility that CET offers for industrial space designers and continues Configura's direction of developing data-driven and customer-focused solutions."
Configura is also happy to announce the newest addition to CET Material Handling – The Essential Conveyor Extension. The Essential Conveyor Extension helps integrate popular conveyor systems on a warehouse floor and is one of the last missing puzzle pieces needed in order to design a warehouse. The Extension reduces common errors, the time it takes to design and the overall cost of implementing new conveyor systems. This extension (like the other Configura created Essential Extensions), does not contain specific manufacturer data, and works in both CET Material Handling and CET Essentials for Material Handling.
Find more information and notes about the CET 14.0 Minor release here.
###
About Configura
Configura creates intelligent space-planning software for manufacturers, dealers and designers in the contract furniture, kitchen and bath, material handling, industrial machinery, and laboratory and healthcare industries. The company's software products are used worldwide. Configura Sverige AB, the parent company, is headquartered in Linköping, Sweden, with commercial operations in Grand Rapids, Michigan, USA; Cincinnati, Ohio, USA; Kuala Lumpur, Malaysia; Shenzhen, China; Tokyo, Japan; and Berlin, Germany. Founded in 1990, Configura is privately owned with 300 employees worldwide and annual sales of more than $25 million USD. More information at www.configura.com.
About CET
Based on technology created by Configura, CET is an intelligent, highly visual and intuitive space-planning software that simplifies specifying and selling of products in a variety of industries. It's a complete solution that quickly and accurately handles every step of the sales and order process. With environments developed for Commercial Interiors, Kitchen & Bath and Material Handling, the software components represent manufacturers' products look and behave like actual products. Users drag and drop components into 2D and 3D virtual environments and behind the scenes, the software tracks components, calculates pricing and prevents user errors. Users can create and generate layouts, quotes, photorealistic renderings, movies, installation drawings, reconfigurations and bills of materials – in other words, everything needed to propose on work and place orders. CET is the future of space planning. More information at www.configura.com/cet.
Subscribe to Configura News to get notified whenever we post something new: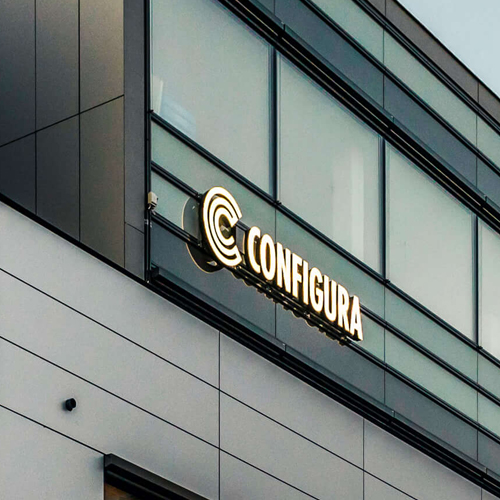 Configura
Founded in 1990, Configura Sverige AB creates software solutions that help businesses and people around the globe design spaces and sell configurable products in the commercial interiors, material handling and kitchen and bath industries. Configura's software products include CET Commercial Interiors, CET Material Handling, CET Kitchen & Bath, Design Studio, Stage, Spec and more. Configura also has a growing user community of thousands of designers, salespeople, dealerships and manufacturers around the globe that use Configura's products.

Headquartered in Linköping, Sweden, Configura has grown to seven offices with commercial operations in Grand Rapids, Michigan, United States; Cincinnati, Ohio, United States; Kuala Lumpur, Malaysia; Shenzhen, China; Tokyo, Japan; and Berlin, Germany. Configura is privately owned with over 300 employees worldwide and annual sales of more than $25 million USD.