Configura's co-founder, Johan Lyreborn, discusses how to optimize the design process using software developed to reduce errors, minimize your company's environmental footprint and save time.
Space design plays a major role in how people live, work and rest. Optimizing space planning and design processes will not only save you time and money, but it will also work to reduce errors that often lead to excess waste—air pollution, items that end up in the landfill, etc. Extreme consumption and overproduction increase the risk of pollution that can negatively impact our planet and way of life. To contribute to a sustainable future, people and organizations can make choices that reduce unnecessary waste.
If we can deliver products that work as intended and serve their purpose the first time around, why should we settle for anything less?
DESIGNING SPACES IN THE PAST
Historically, the design process entailed several different steps and contributors. It required a fair amount of guesswork and left ample room for interpretation. Over the years, we have come a long way from using hand-drawn layouts over catalogues with part numbers to design software. Yet, the question remains, what is the most efficient way to design spaces?
Space design in the past was often costly, time-consuming, and resulted in excessive, unnecessary waste. The process generally began with sketches and notes and, unfortunately, the actual products, measurements and finishes were decided on later. Then came the implementation of design software. However, to this day design software is still used in a way that is disconnected from the products that are necessary to fulfill the purpose of the intended design.
Design is most successful when many perspectives are involved—including designers, sales, manufacturing, installation and more. When the design process is disconnected from the actual available products and design goals, you are left with the increasing possibility of a larger margin of error and confusion as to how the end result is intended to look and function.
To combat this reality, Configura offers unique intelligent design software that seamlessly introduces real products throughout the design process.
USING REAL PRODUCTS TO DESIGN SPACES NOW AND IN THE FUTURE
It is time to design with real products from the start. A real product is a digital twin or rendering of a product that can be physically produced, delivered, and installed that serves its purpose fully. A real product in design software is not only the concept, dream or drawing of a product—it is the product. When you work with real products using specialized software, you can finalize a design and directly transfer it to manufacturing without the need for redrawing.
When real products are used to design spaces, you save money and eliminate unnecessary waste—time, material, transportation pollutants, etc.—through a well architected design process. Real product design is a triple win for companies, customers and the planet. When you choose to design and plan spaces using real products, you enhance the design process, allow for collaboration, save time and reduce your carbon footprint.
Do you want to learn how to use real product design and reduce your company's global footprint at the same time? Here's insight into CET for Commercial Interiors, Kitchen & Bath and Material Handling. Schedule a time to meet with a Configura representative to learn more.
More from On the Move:
EPISODE 4 - THE EVOLUTION OF SOFTWARE AND ITS IMPACT ON SPACE PLANNING AND DESIGN
EPISODE 3 - WHAT IS PARAMETRIC MANUFACTURING?
EPISODE 2 - WHY DO WE HAVE INDUSTRIES?
EPISODE 1 - EVALUATING CUSTOMER-CENTRIC SOFTWARE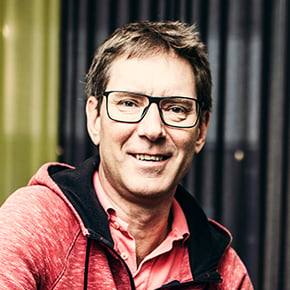 Johan Lyreborn
Configura Chief Evangelist and Co-Founder Johan Lyreborn has spent the last 30 years, along with co-founder Göran Rydqvist, developing a platform known today as CET, which has transformed the way spaces are designed and specified in the material handling, commercial interiors and kitchen and bath, industries. Today, Lyreborn spends his time educating people about CET and supporting Configura's global sales team. Prior to his role as chief evangelist, Lyreborn led Configura as CEO for 20 years.