TRADE SHOW MAY 31 - JUNE 2 2022 | STUTTGART, GERMANY
We're exhibiting at Logimat 2022
Visit us at booth #1A52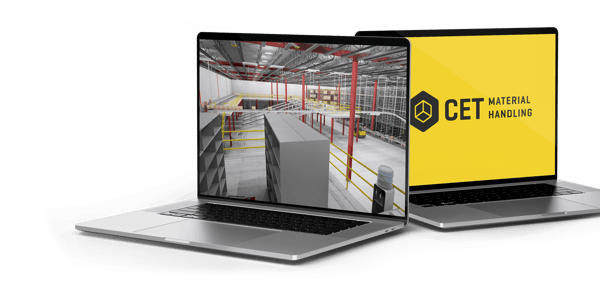 MATERIAL HANDLING INDUSTRY
Intelligent Software for Warehouse Design
Configura supplies innovative software solutions to simplify and accelerate layouts, quotes, visualization and ordering of warehouse solutions for leading companies in the material handling industry. System integrators, manufacturers of pallet racks and conveyors and third-party logistics (3PL) all use our CET software to streamline their sales processes and stay ahead of the competition.
Our CET Material Handling software provides one tool for the entire sales and design process, helping you spend less time on drawing solutions and revisions. You can easily lay out and visualize an entire warehouse design plus simultaneously receive automatic calculations and bills of material. CET Material Handling automates many common tasks in warehouse design, reducing errors to save users time and money.
NEW LIBRARY
Essential Pallet Racking Release
Pallet racking is now part of the Essentials library and available for free with a CET Material Handling license.
It reduces the time necessary for layout and customization, significantly lowers user training time and both enhances and simplifies real-time collaboration in one design drawing. 
Using storage components as well as built-in calculations, this new tool greatly accelerates the design process and allows users to export product counts and schematics for accurate pricing. Additionally, the 3D component of CET offers realistic photo-like renderings that allow designers and decision-makers to visualize spaces. 
ALL IN ONE
WITH CET YOU CAN:
LAY OUT
Create accurate large-scale projects and collaborate with others in the same drawing.
Simply click, snap and stretch 2D and 3D symbols that look and behave like actual products.
SPECIFY
Using real products and parameters, eliminate errors and automatically generate quotes, bill of materials, list of products and more.
PRESENT
Design
live
with customers and easily bring drawings to life with photo-realistic renderings, fly-through videos, 3D PDFs and so much more!
ORDER
Integrate with existing
tools such as
ERP and CRM
. Easily
generate installation drawings, bill of materials and other documents to simplify the order process.
COME SAY HI
SCHEDULE A DEMO
Come visit us at booth #1A52 for a hands-on demonstration of the Essential Pallet Racking Library and other CET features. Tickets are available here.

Alexander Tutt, Business Developer