Steffanie Murphy is an interior designer at Full Circle based in Tempe, Arizona, USA.
Steffanie has always loved the process of design. As a kid she used to sew her own clothes and even made her own prom dresses! Her passion for fashion turned into a love of interior design as she transitioned into adulthood.
After attending Arizona State University (ASU) and graduating with a degree in interior design in 2003, she sought career opportunities within the design field. Introductory designer jobs weren't exactly lucrative, so she ended up working in a high-end retail position while doing some consulting work on the side. Not long after, she decided to step away from the workforce to raise her young children.
Through the years her passion for design held steady. When a classmate reached out in 2016 with a job opportunity, she jumped at the chance to get back into the design world. In 2017, Steffanie joined Full Circle. Her first task was to learn how to design using CET Commercial Interiors, and the rest, shall we say, is history!
We recently caught up with Steffanie to learn about her design experience and use of CET Commercial Interiors in her everyday work. Plus, a Configuran (what employees call themselves and each other!) asked Steffanie to complete a CET design challenge—giving her 5 minutes or less to create a replicable sitting area and small workspace from a blank digital canvas to a 3D rendering. To make the experience a little harder, Steffanie was asked to answer additional questions while drawing in CET Commercial Interiors. Check it out:
Configura: In your career, what project are you most proud of and how did CET help support your design process?
Steffanie: It is so hard to choose! First, I love the process of design and always have. I am so proud of the relationships I've cultivated in the industry. That's the beauty of it. People are the reason we do what we do—spaces are designed for people, and I love getting to know our clients. Second, the industry is ever evolving and the steps you take to get to a result will never be the same. Each project is unique and rewarding in its own way.
As for a specific project, I worked on a series of hospital lobby respite spaces in 2020 that was incredibly rewarding. It was serious work because of the state of the world at the time; we were just coming into the COVID-19 pandemic. I used CET to draw spaces to meet new needs—like shelter back chairs and tables with partitions. When someone walked through the doors, we wanted them to feel warm and comfortable, so designing for natural light was a must. I drew in features like an angulating curved sofa and tables that would keep people at a safe distance. I added family lounge areas and loveseats and incorporated different counter heights and stools.
To get the project going, I created small vignettes of each space to show how the design would support people's desire to feel less exposed within a populated area. Social distancing measures and new health and safety protocols had to be incorporated. CET Commercial Interiors worked like a charm. I was able to share drawings with my clients and adjust as we talked through each design. The updated renderings and accurate calculations helped seal the deal.
That 2020 project came out of my passion for people and design. I did my best to solve for: How can we make this situation as good as it can be and give people comfort and peace of mind through design? I'm proud of that work.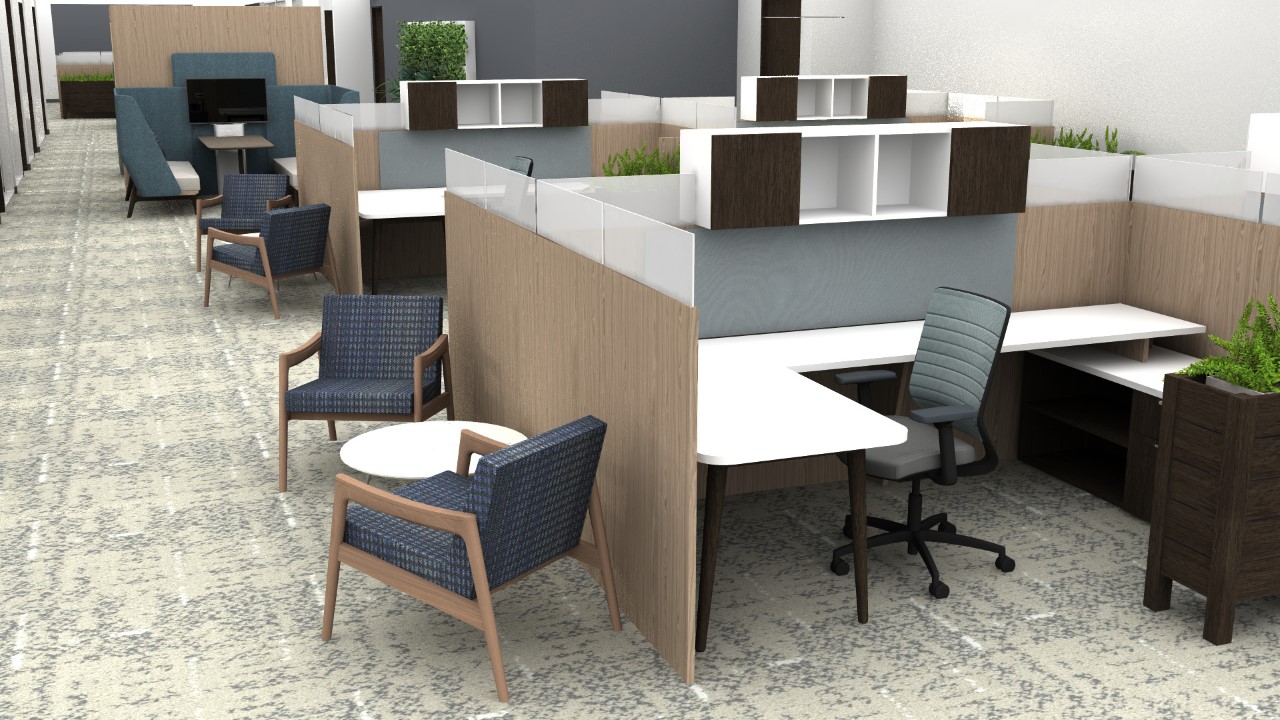 Configura: What do you enjoy most about your work?
Steffanie: The design world is always changing and that means I must stay current in my knowledge of industry trends, design trends and technology tools. Continuing education is one of my favorite things. Both learning and teaching are aspects I love about design. In my career, there are new product launches and that is when I geek out. Each product—like a waiting area bench—comes with available accessories, finishes, materials, etc. It's fun to learn!
My favorite thing about using CET in my work is live design. There are a lot of people out there that don't have the vision to see what designers do. I can walk into an empty room and visualize everything from the hardwood floors to the recessed lighting and everything in between. It's a gift and I am so grateful for it.
I can't imagine doing design work without CET, especially live design. The efficiency it grants me can't be beaten, and it was easy to learn. I had experience in AutoCAD and always preferred technology design. My hand drawing skills are subpar in my opinion, so CET allows me to transfer what I picture in my brain to a canvas that other people can see.
With live design, I can help my clients see what I see! It is always extra fun to watch their eyes light up when everything comes together. And they can veto anything or ask for more. When we do live design sessions, my clients aren't left in the dark in the design process, instead, they are right there with me making decisions.
Also, I take an idealistic view of my work. I believe spaces have the power to impact people's well-being and more. We've all walked into a space where we felt at ease and content—that's likely because it was designed with intent. The people—you—using the space were thought of throughout the design process. In short, I love puzzles and problem solving and designing involves both and more. I like to think my designs help better people's lives.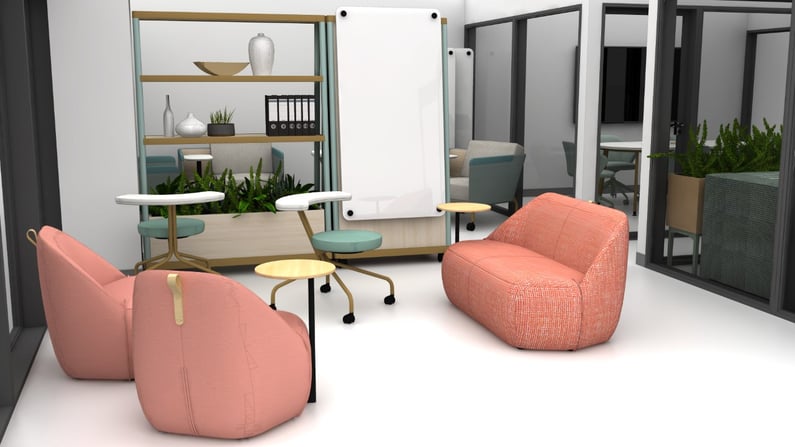 Configura: What advice do you have for someone just starting out in interior design?
Steffanie: I did step away after school and come back, so I might not be the best person to ask about joining the field fresh out of college. Here's what I will say; in general, I have found that transparency and honesty make life that much sweeter. Be someone you would want to work with. In the end, those things are going to serve you better than grades or internship experiences. Take care of yourself and your relationships, and everything else will fall into place.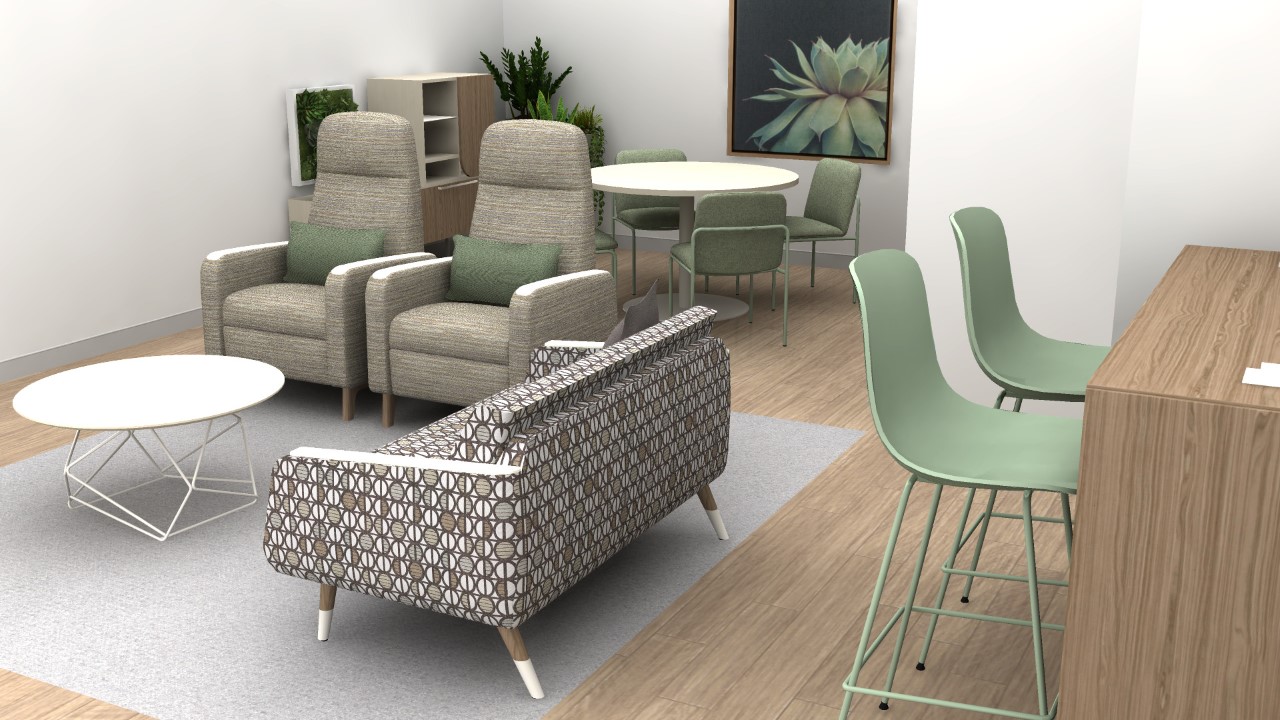 Configura: What are your goals in the next five years?
Steffanie: A few years ago, I lost sight of myself a bit. As a mom, daughter, employee, wife and so on, I could feel myself spinning and lacking focus. At the time I heard someone say, "instead of focusing on social titles, focus on your innate qualities," and that struck a chord with me. I asked myself what was steady in my life and who I wanted to be. My goal came out of that; to help people and share my whole authentic self. In my line of work, CET helps me accomplish both goals. I can solve a quick problem with one click or I can provide someone with a beautiful image of a space that is newly imagined in less than an hour. I achieve my goals when I provide supportive service with kindness and care.
I am new to Configura's F5 user group and something we are collaborating on now is the best way to purge drawings. When you have drawings that change (and most do) file sizes tend to increase with each iteration, even if symbols are deleted. We're working with developers on a solution that will benefit all CET users moving forward. I am jazzed to be part of this team of people helping to make a great tool even better.
I really enjoy being part of the design community and the CET User Community. CET Experience is a great annual event. I always learn a lot and get to collaborate with like minds. It is an honor to get to work alongside so many talented and passionate people.
To read additional CET User of the Month profiles, see the Community tab on Configura's blog page.
---
Do you also want to create beautiful renderings and get automatic bill of materials? Download a trial today to see the power of CET for yourself.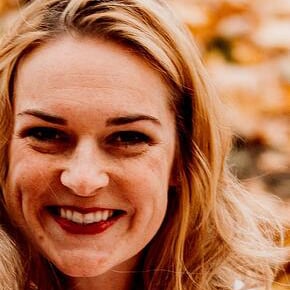 Katelyn Herrygers
Katelyn is the Inbound Marketing Writer & Content Coordinator at Configura. She brings with her a decade of experience in communication focused roles including content management, digital community management, project and trade association management, social media management, copy writing and editing, blogging, web landing page content development, digital advertising, print journalism and event planning with for profit businesses and nonprofit organizations. Katelyn joined Configura in 2022. She resides in Holland, Michigan, USA with her husband, two kids and a dog.