The latest trends take center stage for National Kitchen and Bath Month.
For just over 50 years, October has been deemed National Kitchen and Bath Month for designers and manufacturers. The National Kitchen & Bath Association (NKBA) leads the charge, sharing the latest industry trends, design insights and space planning tools to help turn residential kitchen or bathroom dreams into reality.
Successful kitchen and bath design
The kitchen is often referred to as the heart of the home and the bath is considered a sanctuary. People want great-looking, functional kitchen and bath spaces. A house built in the 1990s or earlier is likely due for a kitchen and/or bath refresh. Not only are styles out of date, but materials and accessories are likely worn down, hard to clean or no longer functioning properly.
As home improvement television shows and social media influencers continue to grow in popularity, homeowners are looking to renovate. Some people take on the heavy lifting on their own, while others hire design and installation services. To ensure the look and functionality of their dreams, homeowners really should seek professional support.
Kitchen and bath designers are in the know of current trends, space saving tricks, product and accessory options and more. Traditionally, both spaces come with small floorplans. A good designer can take a homeowner's wants and needs and tailor them to a small space, with the best products, for the greatest functionality.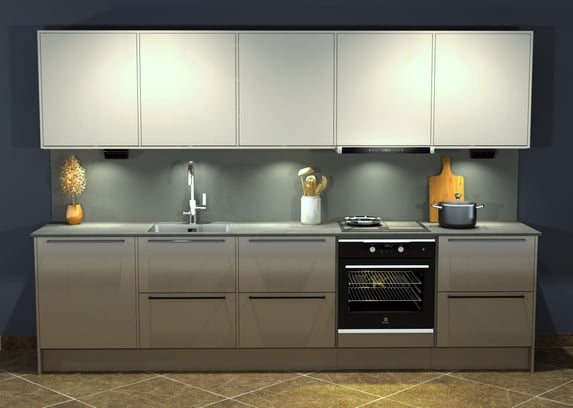 10 kitchen and bath design trends for planning spaces
From the countertops to the drawers and the flooring, kitchen and bath spaces can be designed to match or complimentarily contrast. Coming out of National Kitchen and Bath Month 2022, here are 10 popular design trends customers are asking for:
Kitchen
1. Double islands – Designing a kitchen with not one but two islands is on the rise. Why? One island provides additional counterspace and storage and a second offers even more counterspace, as well as in-kitchen seating for eating, homework time and more.
2. Smart device charging – There's a push to design a go-to place for phone and tablet charging—and still have room for the rice cooker, mixer and blender!
3. Mesh cabinets and floating shelves – The idea of open concept is relevant in kitchen storage. Peek-through mesh cabinet doors or standalone floating shelves provide landing zones for stacking bowls, plates and cups. They look great and offer storage space.
4. Quartz over granite – There's a slight shift in the leading countertop material as of late. Quartz is nonporous (easier to clean and keep clean) and considered more durable. Designers choose counter materials based on style, finish and installation needs—waterfall edge island, anyone?!
5. Dual-purpose faucets – In an effort to support sustainability and reduce electricity and gas consumption, especially in Europe, faucets with electrical aspects under the sink are gaining popularity. Fill a pot with boiling water or a drinking glass with sparkling water right from the tap!
Bath
6. Twin showerheads – To put it plainly, why settle for one showerhead when you can have two? New and remodeled bathroom showers often extend the original footprint. With a larger shower space, a second showerhead fits with ease.
7. Exposed tubs – Gone are the days of building bulky box surrounds for soaker tubs. Instead, designers are planning spaces with a stand-alone tub to add a bit of luxury.
8. Tile – The easiest to clean and maintain, lining the bathroom walls with floor to ceiling tiles and placing a contrasting tile pattern on the floor is not only durable, but also high-design.
9. Corner storage – As with kitchens, creating additional storage space can be accomplished by utilizing corners, floating shelves and under countertop baskets.
10. Vanities with natural textures and materials – The bathroom is a place for cleanliness and comfort, both of which are enhanced with the use of natural treated wood accents and light color tones. Bonus, floating vanities create clean lines and an airiness to small spaces.
As you can see, this year's kitchen and bath trends span the floor to the ceiling and all the spaces in between.
Professional designers looking to create eye-popping customized spaces with photo-realistic renderings and built-in calculation for an accurate bill of materials can look to smart software throughout the design process. Plus, including your customers in the design process using immersive capabilities will lead to new or renovated kitchen and bath success!
CET Kitchen & Bath by Configura
Configura's CET Kitchen & Bath is a SaaS omnichannel solution perfect for kitchen and bath designers who are looking to design and share seamlessly with customers throughout the buying journey.
subscribe to our blog
Subscribe to the Configura Blog to get notified whenever we post something new: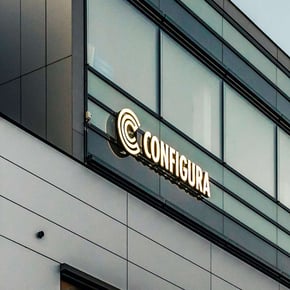 Configura
Founded in 1990, Configura Sverige AB creates software solutions that help businesses and people around the globe design spaces and sell configurable products in the commercial interiors, material handling and kitchen and bath industries. Configura's software products include CET Commercial Interiors, CET Material Handling, CET Kitchen & Bath, Design Studio and Stage. Configura also has a growing user community of thousands of designers, salespeople, dealerships and manufacturers around the globe that use Configura's products.

Headquartered in Linköping, Sweden, Configura has grown to seven offices with commercial operations in Grand Rapids, Michigan, United States; Cincinnati, Ohio, United States; Kuala Lumpur, Malaysia; Shenzhen, China; Tokyo, Japan; and Berlin, Germany. Configura is privately owned with over 250 employees worldwide and annual sales of more than $23 million USD.