In today's market, the ability to visualize flooring as it relates to space planning and design matters more than you might think.
Designers aim to make their drawings and renderings as accurate as possible, but flooring tends to be a sticking point in the visual design process. If the flooring in a design is too basic or too intricate, and the visual doesn't portray what a space will actually look like, designers have a hard time getting their designs approved.
In fact, many designers opt for using a mix of digital and traditional tools to draw flooring tiles, often coloring them by hand individually. It's messy and time consuming. Because of this, flooring is often an afterthought in the design process.
Why You Should include FLOORING in the design process
Flooring is a foundational element to any design—literally and figuratively. It's a tangible product that grounds us within a space and allows us to move from one area to another with purpose and ease.
As a result of the COVID-19 pandemic, designers are seeing a renewed focus on cleanliness and product resilience—as well as environmentally friendly sourced and produced flooring materials that support a sustainable business model. In fact, sustainability remains an overarching theme and a requirement for a growing number of Commercial Interior clients.
Commercial interior designers are tasked with finding flooring solutions for a variety of scenarios—like hybrid workplaces, office conference rooms, healthcare facility waiting areas and university administrative buildings. Clients want sustainable, clean, inviting and long-lasting flooring solutions that fit their overall space design.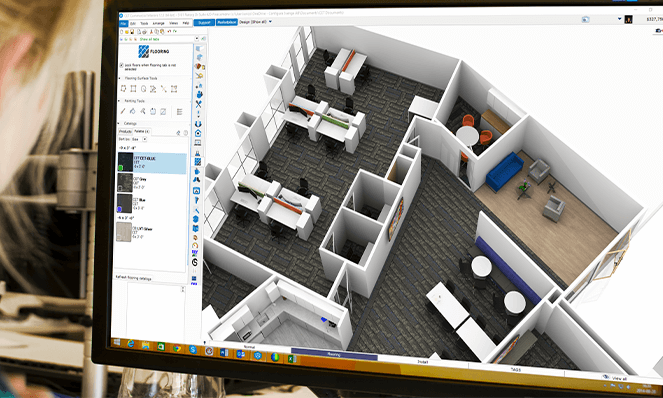 However, in many client-ready renderings, the flooring appears glossy white or simply blends into an all-white background. Why? Because flooring materials are not generally a focal point for commercial interior manufacturers. Instead, manufacturer specific designers are focused on what they do best—the layout and details of tables, chairs, desks, doors, walls, lighting and other manufacturer-specific feature and supporting products in a design.
Another reason flooring tends to be an afterthought in the design process is that floor manufacturers' product catalogues are typically not available in one place. Designers find themselves combing through websites and going to the bookshelf to flip through several volumes to locate the right patterns and colors for a project. Does this sound familiar?!
What you need is a digital catalogue that you can search quickly and efficiently. Designers like you crave immediate visualization of a space with quick access to the data you need.
You want and—dare we say it—deserve the ability to quickly source, compare and incorporate flooring materials into your designs. And on top of that, you should be able to do so with the support of automation and calculation capabilities.
"Configura is always expanding and enhancing our product offering and the Flooring Extension is a great example," said Fredrik Eriksson, Senior Project Manager at Configura.
Clients today expect to see photo-realistic renderings of their spaces, including the flooring. They often ask flooring-related questions throughout the design process, like: Is it inviting? Will it be easy or hard to keep clean? Does it match the overall aesthetic of the space? Is there sound absorption? Will it be comfortable to walk on and easy and safe for wheelchair users and people with differing needs? Is it durable?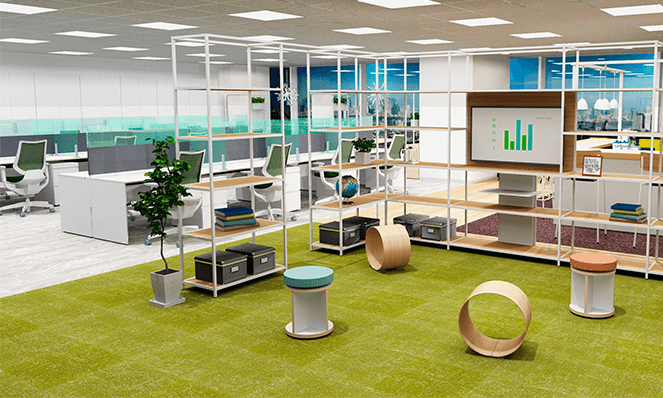 Basic flooring doesn't have to be a designer's go-to solution anymore. Developed in collaboration with floor manufacturers, the Flooring Extension created for CET Commercial Interiors meets several needs:
With the ability to search, find and place products in a design accurately and efficiently, designers can create a space using the Basic Flooring Library that seamlessly includes flooring when they show a design plan to a client.

The Custom Product Tool allows designers to add whatever image they want to see for flooring—from the simple to the complex. This can be used when a specific flooring manufacturer is not listed in the

CET Marketplace.

Like all CET solutions, the Flooring Extension includes automation to support error-free data entry and ordering—providing users easy access to detailed installation plans for installers.
"Immediate benefits manufacturers can see are high quality outputs in 2D & 3D view, renderings and installation plans. Manufacturers can also expect to be closer to customers and give more autonomy to dealers by having all their products in one software," " said Sarah Bradstreet, Account Manager at Configura.
A Manufacturer-specific Flooring Library can be ready with low effort and short time to market

—

featuring flooring products that can be used in designs and sold by the CET Community.
Manufacturers can efficiently cater to custom orders using the Flooring Extension when a Manufacturer Flooring Library is created.
Why Wait? Download the Flooring Extension Today!
Clients need help visualizing just how the flooring will function for the people and purpose a space is intended. CET Commercial Interiors users can download the free Flooring Extension from the Marketplace to take advantage of a Basic Flooring Library. Once individual flooring manufacturers are in place, users will be able to access and apply flooring from specific manufacturer libraries.
Using the Flooring Extension saves designers valuable time and resources and provides clients with photo-realistic renderings that help support the decision making process—which, ultimately, will move projects from the design phase to the ordering and installation phases.
SUBSCRIBE FOR MORE CONTENT LIKE THIS
Subscribe to the Configura Blog to get notified whenever we post something new: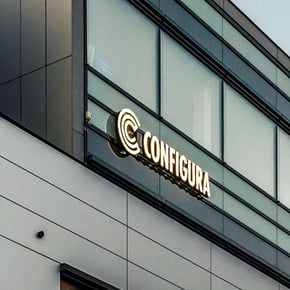 Configura
Founded in 1990, Configura Sverige AB creates software solutions that help businesses and people around the globe design spaces and sell configurable products in the commercial interiors, material handling and kitchen and bath industries. Configura's software products include CET Commercial Interiors, CET Material Handling, CET Kitchen & Bath, Design Studio, Stage and Spec. Configura also has a growing user community of thousands of designers, salespeople, dealerships and manufacturers around the globe that use Configura's products. Headquartered in Linköping, Sweden, Configura has grown to seven offices with commercial operations in Grand Rapids, Michigan, United States; Cincinnati, Ohio, United States; Kuala Lumpur, Malaysia; Shenzhen, China; Tokyo, Japan; and Berlin, Germany. Configura is privately owned with 300 employees worldwide and annual sales of more than $25 million USD.