In October 2022, Configura hosted the 16th annual CET Experience in Grand Rapids, Michigan. The hybrid conference brought together over 1,200 CET attendees from around the world.
Attendees joined together to learn from the past as a way to embrace their present professional and personal goals, advance in knowledge and skills and participate as a community. The theme for the 2022 CET Experience was Elevate, with a nod to space exploration.
Upon first hearing that Configura is the global leader in space planning and design, people often think of Configura's work as having to do with outer space or the universe.
To play on that common misconception, Configurans (what Configura employees call themselves) worked in space-themed videos, jokes and costumes to elevate everyone's experience.
Attendees were encouraged to explore CET, engage with one another, expand their understanding and skills through shared experience and envision the future of designing spaces that truly make a difference. The event was definitely out of this world!
What is CET Experience?
CET Experience is an event designed to enhance people's skills and talents, foster collaboration and inspire new ideas and innovation. To support people wherever they are in their career and personal preferences, the event was offered in a hybrid format, allowing attendees to register to attend in-person or virtually.
Hosted by Configura, CET Experience is facilitated by CET power users and CET developers. With over 50 learning sessions, as well as two inspirational keynote presentations, the knowledge sharing during this two-day event is always extraordinary.
After attending a session and learning about a recent CET enhancement, the Flooring Extension, Jill Becker from Workspace said, "I'm freaking out! I'm not sure I'll use this for pricing or anything, but it can do things that are so complex and look amazing that it will help sell a space!"
Welcome Events
Prior to the start of the official conference, in person CET attendees had a chance to participate in several welcome events including painting classes, brewery tours, fowling and more.
Keynote Recap
Rachel Drukenmiller, CEO of UNMUTED, launched day one with a presentation that encouraged attendees both in-person and virtually to pause, reflect and connect to what matters most now, at work and at home.
During the day one keynote presentation, one attendee spoke up during a large group reflection prompt asking people to think about why their work matters.
"It's like one big puzzle. I like seeing everything from start to finish. Going into a space and seeing our products in place, I feel a sense of pride. I say to myself, 'I did that, I helped make this happen.'"
On day two, James Whittaker, an author, engineer and tech expert helped attendees learn how to develop a creative mind and use it as the fulcrum of a lifestyle where creativity doesn't just happen, it becomes the default case for everything in work and life.
Breakout sessions and CET Awards
In addition to learning sessions and networking, Configura hosted the CET Awards 2022. Honors were given out for six categories including Success Story, Rendering, Student Rendering, Video, 360 Panorama and Innovative Extension.
Held annually in the fall, CET Experience brings together those who use, create and invest in CET including designers, developers, dealerships, manufacturers, Configura employees and service and development partners in the commercial interiors, material handling and kitchen and bath industries.
Visit CET Experience to learn more.
| | |
| --- | --- |
| Configurans at the Halloween party | A pre-conference welcome event |
| Breakout session participation | Keynote audience participation |
| Keynote James Whittaker, Engineer & Author | Keynote Rachel Druckenmiller, CEO, UNMUTED |
| | |
| --- | --- |
| Elevate theme realized via Stefan Persson, Configura CEO and Peter Brandinger, Configura VP Customer Success | A group photo of CET Awards winners with Configura CEO, Stefan Persson |
Subscribe to the Configura Blog to get notified whenever we post something new: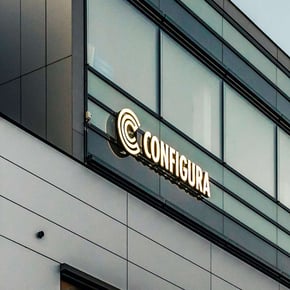 Configura
Founded in 1990, Configura Sverige AB creates software solutions that help businesses and people around the globe design spaces and sell configurable products in the commercial interiors, material handling and kitchen and bath industries. Configura's software products include CET Commercial Interiors, CET Material Handling, CET Kitchen & Bath, Design Studio and Stage. Configura also has a growing user community of thousands of designers, salespeople, dealerships and manufacturers around the globe that use Configura's products.

Headquartered in Linköping, Sweden, Configura has grown to seven offices with commercial operations in Grand Rapids, Michigan, United States; Cincinnati, Ohio, United States; Kuala Lumpur, Malaysia; Shenzhen, China; Tokyo, Japan; and Berlin, Germany. Configura is privately owned with over 250 employees worldwide and annual sales of more than $23 million USD.