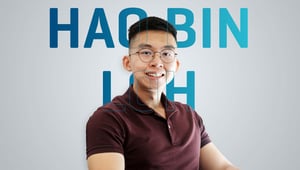 EMPLOYEE SPOTLIGHT
HAO BIN LOH, SENIOR DEVELOPER
The best innovations are realized when we work together
Software development requires technical knowledge and teamwork. Our company culture and team-first approach help support Configurans' commitment to enhancing our solutions and innovating in new ways. Configura's ecosystem includes solutions with tremendous capabilities and potential. For Senior Developer Hao Bin, there's just the right amount of technical challenge every day to spark his creative and analytical skillset.
Location
Kuala Lumpur, Malaysia
Years at Configura
6
Favorite snack
Bin Bin Rice Crackers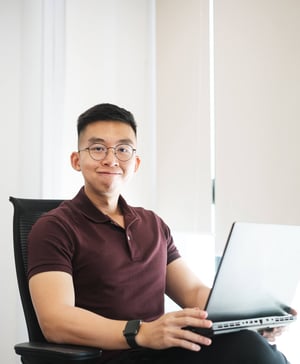 What is the day in the life of your role as a senior developer in product like at Configura?
It might sound cliché, but I typically start my workday with a cup of coffee and go through my email inbox and to-do list! I use a personal Trello board to organize my tasks, which provides me with a clear overview of my day and helps to prioritize my work.
As part of the CET Rapid Response Team (RRT), which handles user support, developer operations and maintenance work for our CET platform, I perform code reviews, development support and other quality assurance tasks. I'm part of a team that is scattered around the world and we collaborate and solve problems together regularly. Some of my work involves performing code reviews of pending merge requests—a method of collaboration between developers when submitting changes to the codebase. All our work is extremely important. We solve issues and provide added value. We consider consistency and efficiency for the application of new and updated development projects within Configura's ecosystem including architecture, code quality, readability, feedback processes and more.
As a member of the RRT there are a variety of different projects every day and an endless number of challenges to tackle—no two days are the same!
What was one 2022 accomplishment or project you are most proud of?
I am proud of the implementation of the trunk based development workflow for CET
and how our team worked together
to bring the project to fruition
. We
revised the process, added a change management plan, communicated the
update, adjusted within our systems and supported developers in the process of adapting to that new workflow. This process helped build a stronger team culture and reiterated our goal of delivering incremental value to our products
while providing
a way
to promote better engineering processes throughout
Configura
.
I am also proud that
the
CET
RRT delivered over 40 releases, including feature updates, hotfixes and core CET performance improvements in 2022.
What do you enjoy most about your work at Configura?
The culture and the people I get to work with every day! Configurans are passionate about what they do and the company culture is supportive and collaborative. Since the start of the COVID-19 pandemic, Configura has embraced a flexible hybrid work model as the norm. Our leadership actively ensures we have a good work-life balance.
I like a good challenge and I get a chance to tackle new projects regularly. CET is a platform with tremendous capabilities and potential, and there's just the right level of technical challenges—what I like to call opportunities—for me to grow as a developer and as a person.
How did you get into development work? (Why is this work interesting to you?)
I started my career
as an intern at
Configura
. I was studying computer science
at
Monash University and was assigned an industrial placement role in
Configura
, which led to a job offer
and I'm still here six years later.
I
have always been interested in computers and
how they
work,
and
I like to solve problems. I realized through my internship and time on the job that development work
is more than coding all day; it's a collaboration between people who do their best to create
solutions with added
value.
Software development as a career felt like the perfect fit.
In what ways do you find the most success working with team members to achieve project goals?
I think the most important thing when working in a team is communication. From establishing goals, setting a common direction, defining requirements, delivering status updates, collaborating, providing constructive feedback and creating knowledge transfer processes to delivering an end product—almost everything involves communication.
As a senior developer, there is a greater emphasis on experience, collaborating, coordinating, leadership, mentoring and balancing short-term versus long-term goals. Learning how to communicate effectively and efficiently is essential to achieve project goals and to ensure team success. Part of that involves creating an environment that is conducive to success—setting up common workflows, creating processes, defining best practices, identifying and eliminating potential roadblocks and supporting one another. As I like to say, 'besides knowing what to do, it is important to know what not to do!'