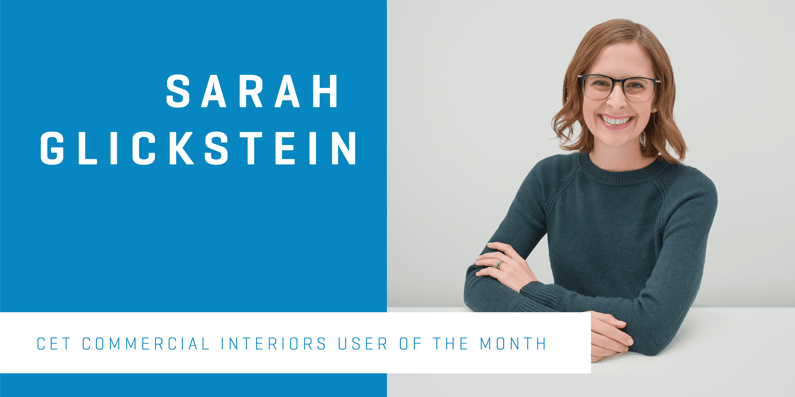 Sarah Glickstein is a Lead Interior Designer at Price Modern, a Haworth dealer, and the 2nd place winner in the success story category at the 2021 CET Awards.
As an interior designer, Sarah loves being in a position that lets her make an impact on people. She believes the surrounding environment can influence our mood, health, social interaction and general career success.
Sarah graduated from the University of Oklahoma in 2015 with a degree in interior design. Initially, not knowing what the job of a dealer designer entailed, Sarah jumped in ready to learn after graduation. Seven years later, she can't see herself doing anything else.
"Growing up, I was the girl who rearranged her room every week," Sarah explained. "I remember I would sketch out and plan where every piece of furniture would fit." Clearly this affinity for furniture translated into Sarah's career, providing her with the aptitude for being an extraordinary designer.
Sarah started using CET at the beginning of her career. Today, she has a robust understanding of both the furniture industry and 2D and 3D design. Sarah uses CET from conceptual development all the way to finalizing specifications and creating block plans. For her, CET is a tool embedded in her daily work process.
"CET has completely changed the way designers like me work. It allows us to work faster and smarter and it's much more collaborative—not only within our organization and design team, but externally with our customers, influencers and A&D teams. Having all capabilities all in one spot, from concept to completion, is a game changer."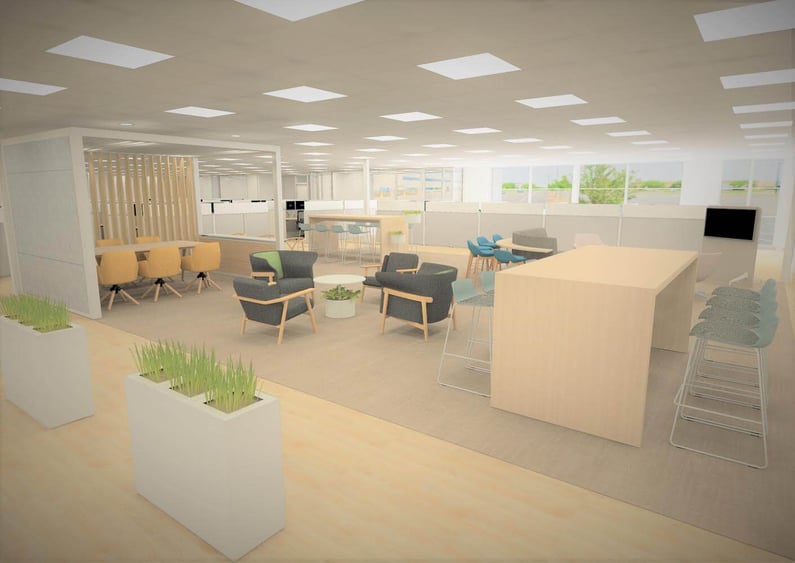 Rendering created in CET Commercial Interiors by Sarah Glickstein.
A CET SUCCESS STORY
Just recently Sarah and the team at Price Modern were awarded a new, sizeable project. The use of CET set the team apart from their competitors. After joining the selection process late, Price Modern was up against two other dealership teams, both of which had the opportunity to meet the client in person. The Price Modern team was unable to do so, and instead, participated in a 90-minute virtual interview where they used CET in real-time to walk the client through the design process. The team also used Yulio, one of Configura's Utility Partners, to review the design in a 360-degree view and toggle between different options.
Using CET with clients offers a certain wow-factor. Sarah and the Price Modern team ended the interview feeling confident. The client shared that they felt the virtual experience was just as strong as the in-person experiences they had had with the other dealer teams.
"They said [the client] it felt like they were touching and feeling the product," Sarah explained. "They were virtually in the space with us, and that was a huge moment because we went into the bid feeling like the cards were stacked against us, but it ended up very successful."
In reflecting on this experience, Sarah wants designers to know that the capabilities you have virtually can sometimes be better than what you can do in-person. CET allows you to change the environment right in front of your client, and in doing so, they are effortlessly integrated directly into the whole design process. Plus, everything created in 2D is automatically translated into 3D.
"For us this is invaluable, especially when working with furniture," said Sarah. "One piece can have many parts to it, so it's easy to work conceptually in 2D while the 3D drawing is created at the same time."
The ease of creating visuals in CET is also an important feature for Sarah as it reduces the time it takes her to go from initial design to a finalized rendering for a customer.
"Prior to CET, creating renderings could take a very long time and you'd have to put so much into it, you lost some of the fun and creative part of the design process. But now that I can do it in a quarter of the time, I can add all the accessories I want and change the lighting and it comes out so much easier and professional," said Sarah.
THE CHANGING ROLE OF DEALER DESIGNERS AND THE POWER OF COMMUNITY
Sarah believes CET will be an important tool to support the changing role of dealer designers. The software gives a designer the ability to speak with supportive information, evidence and visuals they didn't always have easy access to before. This makes the decision-making process more efficient and allows customers to be more involved in a project in whatever way makes the most sense to them.
"It is really empowering to me as a dealer designer to supply service and knowledge to our sales team and clients," Sarah said. "I am getting pulled into a lot more client meetings but it's not taking any more of my time. Using CET means cutting down on that behind-the-scenes time of going back and forth between designers and clients.
"Designing in real-time sessions is so much more effective - it just makes sense."
Sarah's favorite CET trick is using the alignment tools. When she started working in CET, she did not know that the position and align tools existed. Once she stumbled on them, she began using the tool for each project. In doing so, her work time gets cut down immensely and she can organize objects quickly, efficiently and at professional quality.
Lastly, but just as important, the CET Community is a big aspect—personally and professionally—in Sarah's life. Having a common community gives people a place to learn and grow, as well as a forum to connect.
"Attending the CET Experience is a great because I get to meet other people from the community," Sarah said. "People working in our industry live and work all over the country and CET allows us all to stay connected!"
---
Do you also want to create beautiful renderings and get automatic bill of materials? Download a trial today to see the power of CET for yourself.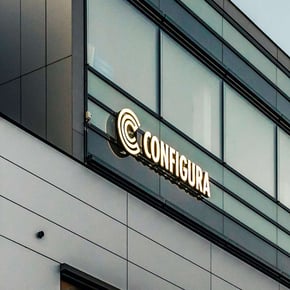 Configura
Founded in 1990, Configura Sverige AB creates software solutions that help businesses and people around the globe design spaces and sell configurable products in the commercial interiors, material handling and kitchen and bath industries. Configura's software products include CET Commercial Interiors, CET Material Handling, CET Kitchen & Bath, Design Studio and Stage. Configura also has a growing user community of thousands of designers, salespeople, dealerships and manufacturers around the globe that use Configura's products.

Headquartered in Linköping, Sweden, Configura has grown to seven offices with commercial operations in Grand Rapids, Michigan, United States; Cincinnati, Ohio, United States; Kuala Lumpur, Malaysia; Shenzhen, China; Tokyo, Japan; and Berlin, Germany. Configura is privately owned with over 250 employees worldwide and annual sales of more than $23 million USD.