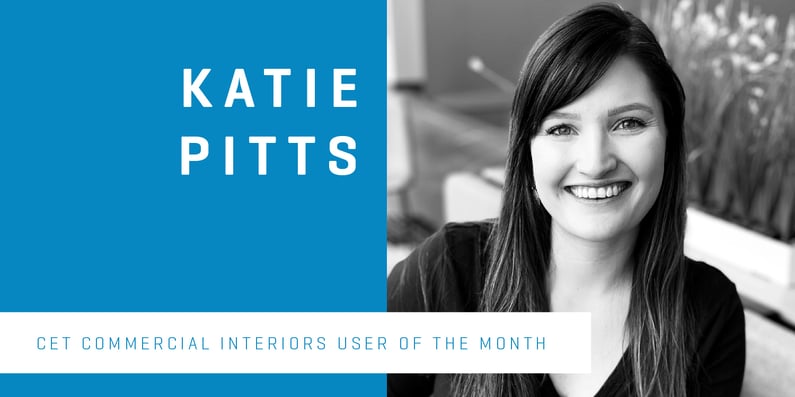 Katie Pitts works as an Interior Designer at Office Resources, Inc. (ORI). Katie likes to space plan rooms and houses in CET for herself and her friends in her spare time. When she's not busy in CET she likes to spend time reading or entertaining her two cats.
Katie first started using CET eight years ago and is especially excited to see how well the software has progressed over the years and how many new features have been added during that time. Mainly using CET as a space planning tool for office design has helped Katie to make her work much more efficient. "I get to be really quick, because there are so many different shortcuts that you can use. CET has really helped me with time saving and time management, and that is invaluable in what we do, because everybody's always in a rush to get something back," Katie said.
RENDERINGS FOR THE WIN
Recently, Katie was able to help a client that needed high quality renderings for a project they were working on. The client was looking into outsourcing that task to an external company which would have cost a large amount of money, but with CET, Katie could provide them with high-end renderings not only showcasing furniture but also the client's building finishes, walls and much more. "I was able to produce some of the renderings for them for a fraction of the cost of what it would cost to outsource. That was a pretty great success story," said Katie.
SAVE TIME WITH FAVORITES
Katies favorite thing about CET is the different file types. "I can hit 'F' and pull in any favorite that I have saved in a favorites folder and plug that in and a lot of times I save my Typicals for projects, or I'll save little accessories that I can plug into drawings. I save so much time and it really improves the aesthetic of the renderings that you're producing, so I would absolutely say keyboard shortcuts and favorites are some of my favorite CET features as they are really beneficial," Katie said. "I have a folder setup called design resources and the whole design community at my company can reference it. They can, for example, pull in backgrounds for different pictures from a folder labeled 'Art.' I love how images can be added to walls in CET and turned into a piece of art, where you can even add a frame to it. It adds a nice touch and people really appreciate it."
CET IS SETTING INDUSTRY STANDARDS
The future ahead is bright with CET. "I see CET really setting us apart as a dealer from other dealerships in our area. Especially because we can utilize different Extensions with it. Plugging our renderings into a program like Yulio and being able to offer virtual reality experiences to our clients really makes us stand out," she said.
"I think that that CET is setting a new industry standard for us and it's exciting to see us be the innovators in our area."
"Personally, I love that I have become that touch point for some of my co-workers, where they come ask me for tips and tricks that will help them save time in CET. I love to stay up to date with changes in the software and tasked myself with that responsibility so that I can continue to be that person for everybody," she said.
Within the CET Community Katie really appreciates the Briefcases as well as the free webinars. "I like reading the feedback that people will add to different Briefcases. It is a great way to keep things open and share information back and forth with other firms and people in the industry. The webinars are awesome because I feel like I can constantly brush up on different tips and tricks. I attended a flooring one a couple weeks ago and I'm really excited to see that Extension evolving," Katie said.
---
Do you also want to create beautiful renderings and get automatic bill of materials? Download a trial today to see the power of CET for yourself.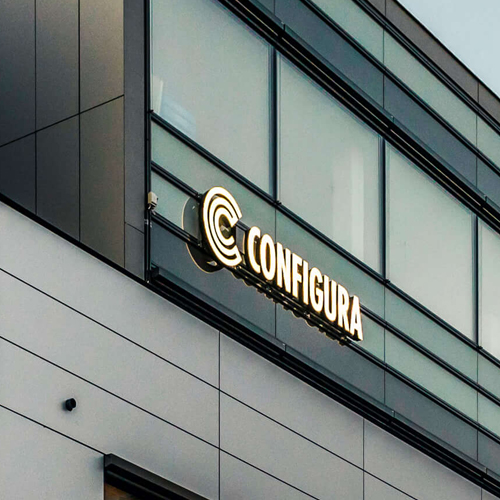 Configura
Founded in 1990, Configura Sverige AB creates software solutions that help businesses and people around the globe design spaces and sell configurable products in the commercial interiors, material handling and kitchen and bath industries. Configura's software products include CET Commercial Interiors, CET Material Handling, CET Kitchen & Bath, Design Studio, Stage and Spec. Configura also has a growing user community of thousands of designers, salespeople, dealerships and manufacturers around the globe that use Configura's products. Headquartered in Linköping, Sweden, Configura has grown to seven offices with commercial operations in Grand Rapids, Michigan, United States; Cincinnati, Ohio, United States; Kuala Lumpur, Malaysia; Shenzhen, China; Tokyo, Japan; and Berlin, Germany. Configura is privately owned with 300 employees worldwide and annual sales of more than $25 million USD.