In this blog post, learn how to use the sales channels where your customers prefer to shop while enforcing brand recognition that captures their attention and keeps them coming back.
WHAT iS THE DIFFERENCE BETWEEN A MULTICHANNEL AND OMNICHANNEL METHOD?
Multichannel Method
The traditional multichannel method—where the goal is to reach customers on various channels to attract new customers—uses a mixture of website, eCommerce, professional sales and in-store strategies. However, each channel within a multichannel strategy operates in a silo.
The customer information and experience are typically not shared and can vary greatly between each channel. A customer could enter the sales process online and decide to move to an in-store location where they would start the sales process all over again. A multichannel strategy makes the sales funnel disconnected and hard to track.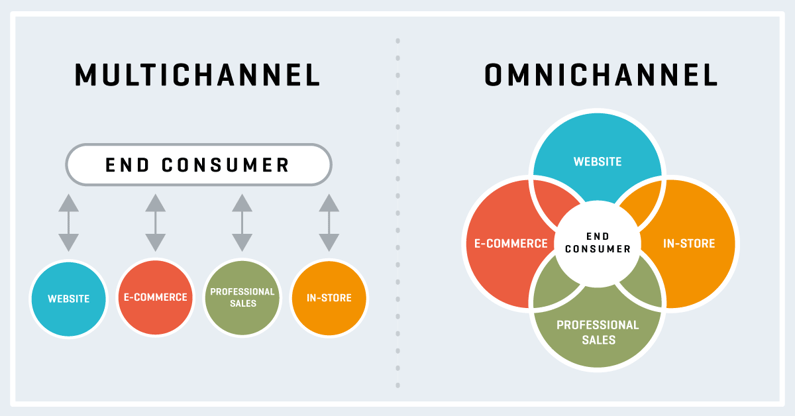 Omnichannel Method
An omnichannel method enhances and nurtures the relationships between consumers, designers and sales using an interconnected ecosystem. A company can use various sales channels to attract new and returning customers based on one source of truth. The data live in one place and are pushed out and repurposed as needed.
In this approach, a company's website, eCommerce platform, professional sales and in-store strategies work in tandem, rather than operating in silos. Therefore, a buyer's journey is interconnected regardless of which sales channels they use.
THREE KEY OMNICHANNEL BENEIFTS

The global COVID-19 pandemic has heightened the urgency for true omnichannel inventory management in business and industry. The benefits of an omnichannel strategy include:

1. Enhanced Customer Experience


By creating integration between sales channels, your company delivers a top-notch customer experience regardless of channel. More consistency across your sales channels creates greater brand awareness—increasing the likelihood of a person becoming a customer and potentially a referral source for future customers.

2. Data Driven Insights

An omnichannel approach allows manufacturers to collect and share customer data across all channels. The data can be used to create ideal customer profiles which can help develop targeted marketing campaigns or more accurately evaluate conversion rates. When you better understand your customer, you can ensure your message and sales channels provide the information necessary to convert prospects into legitimate leads.

3. Reduced Internal Costs

Through a traditional Multichannel approach, customer data could be redundantly collected up to three different times over the course of the customer journey. By sharing customer insights across channels using an omnichannel approach, manufacturers can eliminate errors caused by manual input, reduce total cost of ownership for multiple solutions used in different channels and eliminate the duplication of services. Additionally, creating internal efficiencies frees up company resources, allowing you to accelerate current prospects through the sales pipeline.

An omnichannel approach

helps ensure the sales channels where your consumers shop and purchase products and services are all interconnected. So, how do you shift to an omnichannel strategy?



---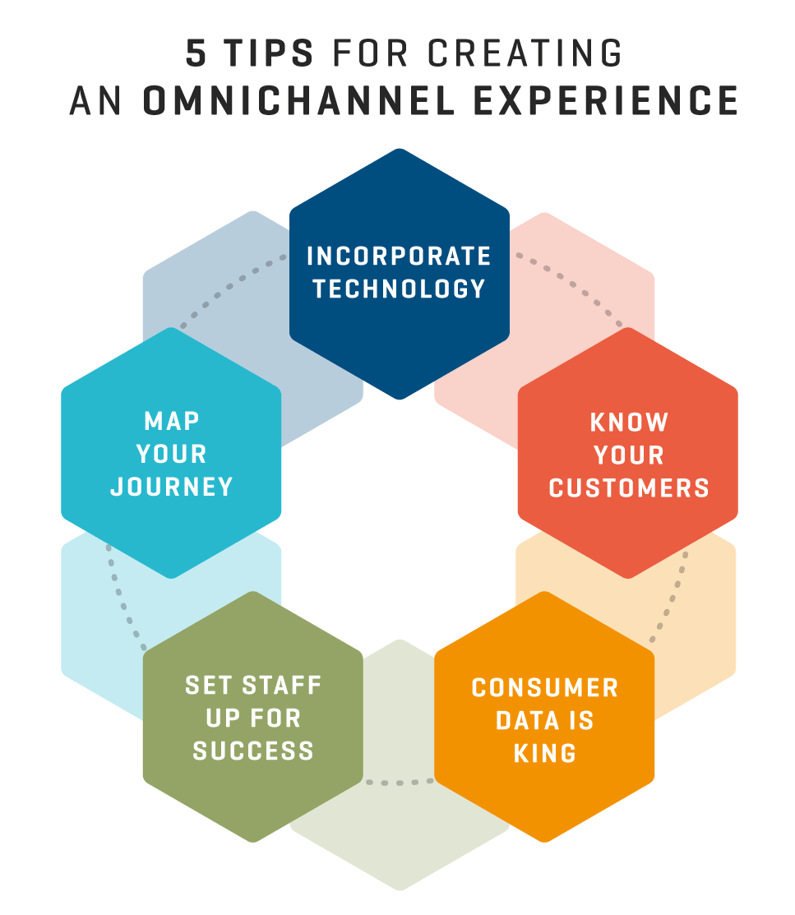 Know Your Customers: The first step in building a relationship with potential customers is to get to know them. By truly understanding your customer, you can ensure that you're providing the right content in the right channels to attract the right buyer.
Map Your Journey: Ensure there are no "red lights" stopping a prospect from becoming a customer. Understand how they enter your sales cycle, the steps it takes to become a customer and the interactions they have with your brand throughout the process.
Incorporate Technology: Once you've mapped out your customer journey, look to see how technology can help automate internal processes or engage with customers in a new way.
Use Consumer Data: Identify what information is important to know about the customer throughout your entire sales process and what you want to measure. By choosing those metrics, you can collect data and evaluate to determine new trends, customer profiles, channels or other insights.
Set Staff Up for Success: People are a huge component in a successful omnichannel experience. Include your employees on the customer journey map to help them understand the big picture and how cross-departmental teams will work together to win a project. Train them in new technology and provide resources that help make their job easier.
---
LEARN HOW AN OMNICHANNEL METHOD CAN BENEFIT YOUR BUSINESS
Join Michael Monaghan, Business Development Manager at Configura, as he explores Configura's omnichannel approach in this 25-minute pre-recorded webinar session.
SUBSCRIBE FOR MORE CONTENT LIKE THIS
Subscribe to the Configura Blog to get notified whenever we post something new: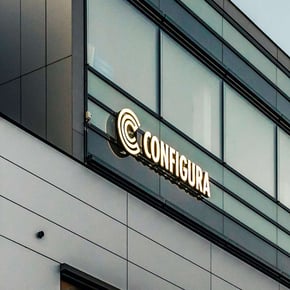 Configura
Founded in 1990, Configura Sverige AB creates software solutions that help businesses and people around the globe design spaces and sell configurable products in the commercial interiors, material handling and kitchen and bath industries. Configura's software products include CET Commercial Interiors, CET Material Handling, CET Kitchen & Bath, Design Studio and Stage. Configura also has a growing user community of thousands of designers, salespeople, dealerships and manufacturers around the globe that use Configura's products.

Headquartered in Linköping, Sweden, Configura has grown to seven offices with commercial operations in Grand Rapids, Michigan, United States; Cincinnati, Ohio, United States; Kuala Lumpur, Malaysia; Shenzhen, China; Tokyo, Japan; and Berlin, Germany. Configura is privately owned with over 250 employees worldwide and annual sales of more than $23 million USD.