With the ever-growing number of online orders, deliveries and consumer spending, material handlers are needed more than ever.
5 Tips for Overcoming

Labor Shortages in the Material Handling Space
According to a study from Deloitte and The Manufacturing Institute, an estimated 2.1 million jobs in manufacturing will go unfilled by 2030. Workforces are becoming thinner and less reliable.
The material handling industry is feeling the impact of labor shortages and an overall sporadic work climate, staggering turnover rates and open positions that are causing company leaders to consider better retention techniques to retain workers.
What labor encompasses material handling?
Material handling skills include anyone, or anything, used to transport goods and materials in, out and throughout (think forklifts or push carts) of distribution centers, retailers, sales outlets, e-commerce delivery providers and customers. However, the material handling industry is facing an aging workforce, a growing demand for manual labor and high turnover rates, which are all leading to the labor shortage we see in the industry today.
Warehouses are left with a low number of employees, forcing current employees to work longer hours to meet demands. Long hours result in increased levels of stress and strain on the body, leading to higher turnover rates.
According to EAM Mosca, turnover in the transportation, utilities and warehousing sector was 40.9 percent in 2017. The rate slowly increased in 2019, peaking at almost 60 percent in 2020, dropping back to 49 percent in 2021, which followed the turnover trends before 2020.
Along with a high turnover rate, many material handling companies have Baby Boomer employees—born between 1946-1964—who are looking to retire. Because the number of people retiring outnumbers the amount of people joining the workforce, the pool of available material handling workers is shrinking.
Distribution centers requiring manual labor are faced with the challenge of finding alternatives to get the work completed.
How do you retain material handling workers?
1 - Incentivize: Employers offering higher wages and frequent bonuses stay competitive against other warehouses.
2 - Flexibility: Up until recently, many warehouse managers did not offer much flexibility within roles. One of the many requests from warehouse workers is better scheduling—offering flexibility is vital.
Warehouses offering flexible hours are still competitive and can tap into new groups of potential employees such as students, stay-at-home parents or retirees who may need to work in shorter time frames.
3 - Create an inviting community: An important part of cultivating an inviting community is to keep workers safe. Increasing and upgrading safety equipment for workers will help prevent injuries and accidents. Ensuring a clean and organized warehouse can enhance safety and also reduce the stress of workers.
4 - Invest in technology: Keep employees informed and trained on technology. It is essential for workers to know how to operate new machinery and build upon existing skills or create new ones. Training current workers can reduce the number of new employees needed to operate equipment. Plus, goods to person technology can shrink operator fatigue by reducing walking distance 10 or more miles per day.
5 - Labor strategies: Reaching out to staffing agencies can help fill gaps within warehouses. Temporary workers can reduce workloads during busy seasons while only working for a few months at a time. Offering incentives for employee referrals benefits both the employer and employee, increasing staff within the warehouse.
Automation within a warehouse
Millions of companies rely on material handling workers, but warehouses may soon be relying heavily on AI and other technology to fill gaps and reduce the amount of human labor needed.
According to EAM-Mosca, the areas within a warehouse where automation can improve productivity and reduce the need for hiring more workers are transport, palletization and end-of-the-line automation.
Investing in automation can keep warehouses productive amidst a labor shortage. According to Investor's Business Daily, the warehouse automation market is predicted to generate $42.15 billion in revenue worldwide, reaching $78.82 billion in annual sales by 2026.
Although there is a shift towards robots and introducing more automation within warehouse operations, warehouses are still years away from operating without any humans inside assisting production.
The top priority for warehouse managers today is to focus on retaining employees to keep material handling operations running smoothly for the rest of the world.
It's also crucial to design warehouses that blend automation and robotics with the flow and daily activities of the human labor force. Optimizing design and improving efficiencies using a program like CET Material Handling can help curb labor shortages and improve the work conditions of workers.
Subscribe to the Configura Blog to get notified whenever we post something new: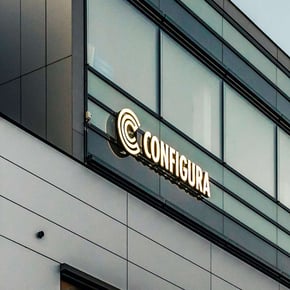 Configura
Founded in 1990, Configura Sverige AB creates software solutions that help businesses and people around the globe design spaces and sell configurable products in the commercial interiors, material handling and kitchen and bath industries. Configura's software products include CET Commercial Interiors, CET Material Handling, CET Kitchen & Bath, Design Studio, Stage and Spec. Configura also has a growing user community of thousands of designers, salespeople, dealerships and manufacturers around the globe that use Configura's products. Headquartered in Linköping, Sweden, Configura has grown to seven offices with commercial operations in Grand Rapids, Michigan, United States; Cincinnati, Ohio, United States; Kuala Lumpur, Malaysia; Shenzhen, China; Tokyo, Japan; and Berlin, Germany. Configura is privately owned with 300 employees worldwide and annual sales of more than $25 million USD.