A people-centered approach to space planning and design can enhance our sense of community, break down barriers and ensure spaces are accessible and functional for people to enjoy today and in the future.
Creating a space with intention
Special Olympics Michigan (SOMI) partnered with Steelcase, an American manufacturer of furniture seating and space solutions for commercial interiors, to create spaces designed for an innovative inclusion center in Grand Rapids, Michigan. Steelcase products are available in CET Commercial Interiors where users of CET draw and order design plans.

Kamara Sudberry, Steelcase Inclusive Design Leader, approached the SOMI project with inclusivity and community top of mind from the beginning. This is how Sudberry framed it in a 2022 article on Steelcase's website:

"When we approached this project, we wanted to engage as many people as possible who will use the center's shared spaces. We didn't want to just design for this community. We needed to design with them."

Inclusive design in action and its community impact
The goal was to create a space where all people feel welcome. Steelcase and Sudberry included a wide range of perspectives and types of disabilities when designing to make the process as inclusive as possible.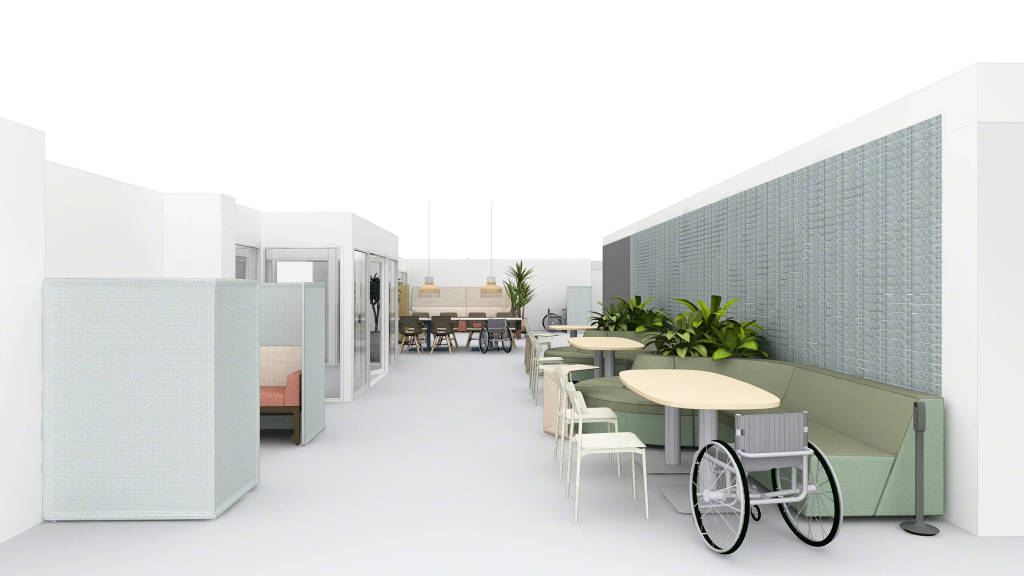 Image above originally shared by Steelcase - Place of Pride. "Breakout spaces concept: Acoustic tiles applied to the wall help dampen sound, important for those who might get over-stimulated or struggle to isolate voices. Lounge seating serves as a landmark while chairs and personal tables can be moved as needed. Shielded spaces allow for individual privacy or small private group conversations."
They wanted representation across communities to ensure that everyone had a voice. To do so, they sent pre-read documents and images ahead of each design session, added image descriptions read aloud by screen readers, used a sign language interpreter, and had both in-person and online information gathering sessions throughout the design process.
Here are some tangible findings from Steelcase for how to design inclusively:
Consider acoustics
Use circular configurations
Bring in both fixed and flexible furniture
Include a range of seating and table options
Consider the location of power sources and accessibility
However, truly inclusive designs are all unique—where planners take into account the needs, wants and desires of the people whom the space is intended for.
The future of work arrangements starts at the beginning.
By using design software that caters to the whole ecosystem of commercial interiors, companies can prioritize safety and inclusivity with a plan that realizes the future of work. That's why our company, Configura, creates software—our CET suite—that allows users complete flexibility to deliver on their design vision from start to finish.

Successful companies are emphasizing designs that meet the needs of all employees and workspace visitors, prioritizing a sense of belonging, safety and ingenuity.
Subscribe to the Configura Blog to get notified whenever we post something new: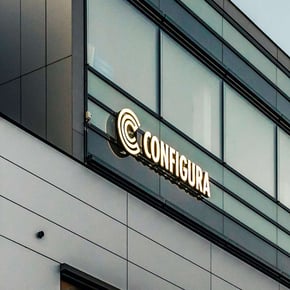 Configura
Founded in 1990, Configura Sverige AB creates software solutions that help businesses and people around the globe design spaces and sell configurable products in the commercial interiors, material handling and kitchen and bath industries. Configura's software products include CET Commercial Interiors, CET Material Handling, CET Kitchen & Bath, Design Studio, Stage and Spec. Configura also has a growing user community of thousands of designers, salespeople, dealerships and manufacturers around the globe that use Configura's products. Headquartered in Linköping, Sweden, Configura has grown to seven offices with commercial operations in Grand Rapids, Michigan, United States; Cincinnati, Ohio, United States; Kuala Lumpur, Malaysia; Shenzhen, China; Tokyo, Japan; and Berlin, Germany. Configura is privately owned with 300 employees worldwide and annual sales of more than $25 million USD.