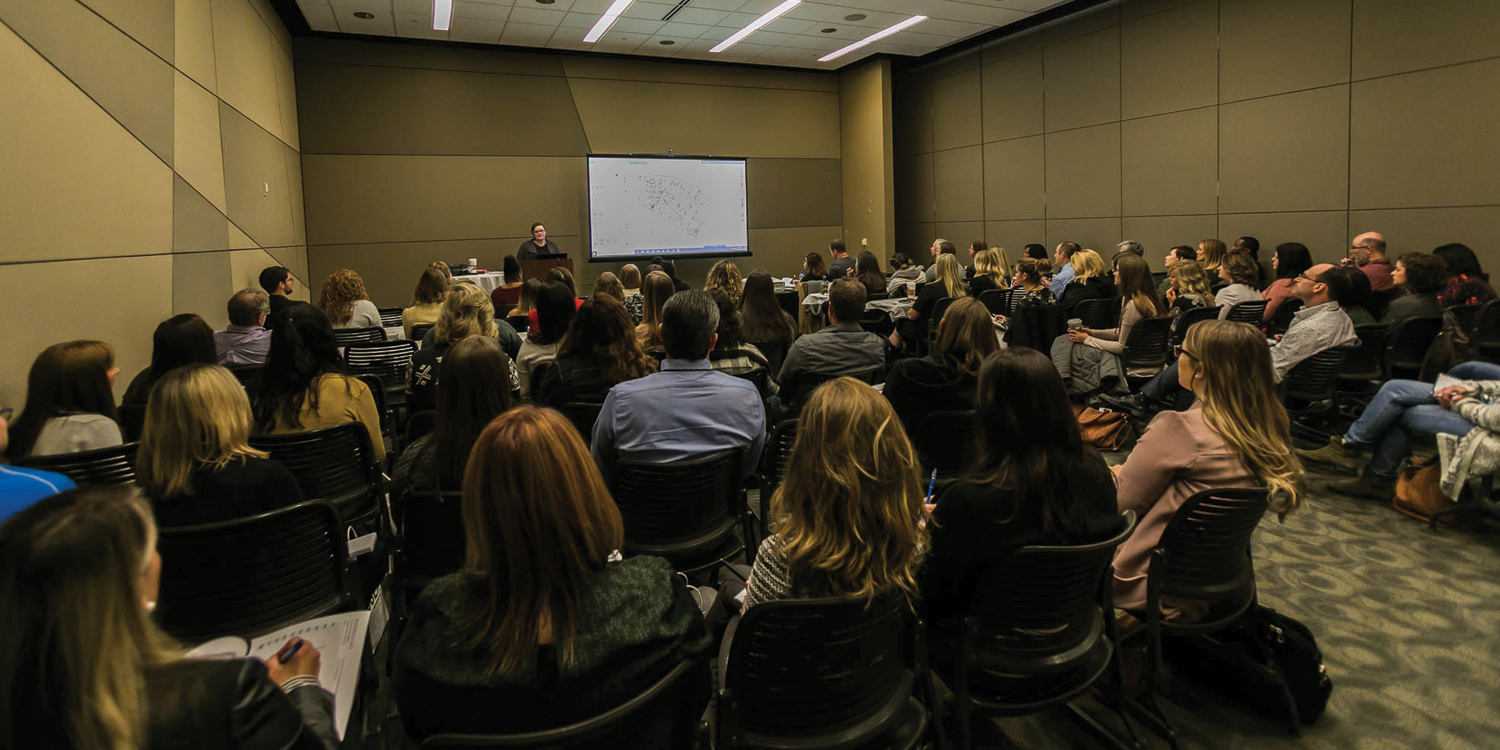 Configura's 11th annual CET Designer User and Developer Conference draws global audience
Configura, maker of CET Designer software, wrapped up its 11th annual CET Designer User and Developer Conference, held in October at the DeVos Convention Center in Grand Rapids, Michigan.
The conference gives CET Designer users, developers of the software and the manufacturers who invest in CET Designer Extensions the opportunity to network with and learn from one another as well as experts in the field, be inspired by the presentations and people they meet, and impact the future of CET Designer.
This year's conference saw record-breaking attendance, drawing 527 people from various industries and from around the globe.
Designers, dealers, developers and manufacturers from Allsteel, Chief, Coalesse, Dematic, DeskMakers, Enwork, Global Furniture Company, Haworth, Herman Miller, HNI, HON, Inscape, KI, Kimball, Knoll, Kokuyo, Maars Living Walls, Midmark, National Office Furniture, OFS, Spacesaver, Spec Furniture, Steelcase, Symbiote and Teknion participated.
"Eleven years ago, our conference had about 86 participants, and now look at us – we've welcomed hundreds of representatives from around the globe," said Configura CEO Johan Lyreborn. "CET Designer continues to evolve because of our community. Our users' passion for designing spaces, combined with our passion for software based on Parametric Graphical Configuration, has brought us to where we are today."
Industry experts presented
Color expert Karl Bertilsson of NCS Colour keynoted the conference, sharing past and upcoming trends for color based on global forecasting.
"From the perspective of consumer behavior, when we make a purchase, 92 percent is based on a visual assessment. About 90 percent of that visual assessment depends on color only. This is how important color is, and this gives you a huge responsibility as designers to integrate color into your design at the very beginning, not at the very end. In the beginning, it should be a conscious decision," Bertilsson said.
Second-day keynote and founder of Contract Consulting Group Amanda Schneider, LEED AP, shared her perspective on evolving trends in the contract interiors industry. She talked about dealer-designers' changing roles and offered an empowering message about their impact on designed spaces.
"The key to the future will be to create a great client experience that will adapt and change as the world does," Schneider said.
Other speakers, presenters and workshop leaders included industry experts, power users and CET Designer team members.
Nearly 60 educational sessions were available to attendees. Many of these sessions were approved for Continuing Education Units by the Interior Designer Continuing Education Council (IDCEC).
"There are so many changes happening to CET Designer as the software evolves, so you can always learn new tips and tricks during the sessions," said Ashley Redieck of Tangram Interiors. "This year, I really liked the rendering session. There are always new features for renderings being released, and I think we can always expand our knowledge of them."
CET Developer Conference
The CET Developer Conference, held in conjunction with the User Conference, was an opportunity to meet and share experiences with other CET (Configura Extension Technology) developers, explore the CET Developer community and learn about new topics and standards for programming. Software users and developers had chances to connect, learn from one another and discuss the future of CET Designer.
"We learned a lot about the new things being developed, which gives us a leg up when we are implementing features in our Extensions. I really enjoyed hearing what other programmers are doing, and seeing what solutions they have come up with. That back-and-forth knowledge sharing inspires me to think differently when programming," said Tyler Lamb of Allsteel.
Reception and CET Designer Awards
To close the first day of the conference, Configura hosted an evening cocktail reception where conference attendees mingled and networked with one another.
Configura announced the winners of the 2018 CET Designer Awards during the reception. Award categories included success stories, renderings, kitchen renderings, student renderings, videos and 360 panoramas. User submissions were on display throughout the conference, offering an opportunity for designers to view each other's work. This year's success story winners included 1st place winner Stephanie Wolfson, WRG, 2nd place winner Melissa Harper, Price Modern, and 3rd place winner Kaitlin Davis of Freedom Interiors. For a complete list of winners – along with their work – visit: www.configura.com/awards.
Presentations videos/photos and 12th annual conference dates
Presentations, videos and photos from the conference will be available at configura.com/userconference.
Configura announced that the 12th annual CET Designer User and Developer Conference will be Oct. 17-18, 2019, in Orlando, Florida.
Newsroom
News archive