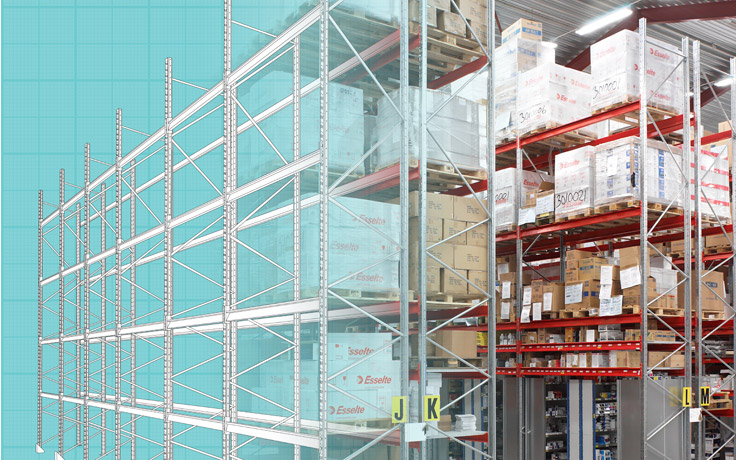 Configura partners with AJ Products
Configura partners with AJ Products to develop a CET Designer software extension to simplify warehouse planning
AJ Products will use its CET Designer Extension to simplify how warehouse spaces are designed
LINKÖPING, SWEDEN—Mar. 1, 2017— Configura, the creator of CET Designer space-planning software, announces partnership with Sweden based AJ Products to create a CET Designer Extension. AJ Products manufactures and sells material handling solutions and is one of the first companies in the material-handling industry to join the CET Designer community.
Configura, a Linköping-based company, is the leading provider of design, specification and ordering software that enables 2D and 3D design, photorealistic renderings, fly-thru videos, virtual reality experiences, instant bills of materials and installation documents. The company offers software solutions built with Configura Extension Technology (CET), which enables manufacturers to create their own Extensions to be plugged into the core software CET Designer.
Configura's solutions are used by Kinnarps, Marbodal, Kvik, Bisley, Herman Miller, Steelcase, Haworth, KI, Inscape and dozens of other office furniture and kitchen manufacturers. More than 10,000 designers and salespeople around the world use Configura's software solutions.
AJ Solutions Business Area Manager Erik Einarsson decided to invest in a CET Designer Extension because he saw a need for an all-in-one tool for internal employees to design warehouse spaces using AJ Products' line of products.
Having previously worked with Configura, Einarsson knew the company understood the intricacy involved in designing a warehouse space. It's a process than can be time-consuming and complicated – one requiring an intelligent tool that can handle complex product configurations in large drawings.
"To be able to help our customers plan and visualize their interiors, we needed a competent tool," said Einarsson. "I chose to partner with Configura because I know they can deliver what we need, and they understand the complexity of these systems."
An Extension is a collection of manufacturer's products that they want to use in CET Designer. The products within an extension can contain programming code, which allows the product to be smart. Manufacturer's such as AJ Products create a CET Designer Extension to have rules built into the product so the user doesn't have to know how the product can be configured and is visually presented with all options on the screen. The product can be stretch and configured based on the rules that have been programmed.
"With CET Designer's amazing ability to handle calculations at the same time as it does space planning and visualizing, it will be a great tool to streamline and simplify the quotation and sales process for companies in the field of material handling" Tobias Wester, Chief Information Officer for Configura said.
AJ Products tentatively plans to launch its Extension in March 2017, with the goal to simplify the selling process and make it easier to help plan and visualize its customer's interiors.
###
About Configura
Configura creates intelligent space-planning software for manufacturers, dealers and designers in the Contract Furniture, Kitchen and Bath, Material Handling, Industrial Machinery, and Laboratory and Healthcare industries. The company's software products, including CET Designer, are used by more than 10,000 people around the world. Configura Sverige AB, the parent company, is headquartered in Linköping, Sweden, with commercial operations in Grand Rapids, Michigan, USA, and Kuala Lumpur, Malaysia. Founded in 1990, Configura is privately owned with more than 120 employees worldwide and annual sales of more than $13 million USD. More information at www.configura.com.
About CET Designer
Based on technology created by Configura, CET Designer is intelligent, highly visual and intuitive space-planning software that simplifies specifying and selling of products in a variety of industries. It's a complete solution that quickly and accurately handles every step of the sales and order process. In CET Designer, components that represent manufacturers' products look and behave like actual products. Users drag and drop components into 2D and 3D virtual environments; behind the scenes, the software tracks components, calculates pricing and prevents user errors. Users can create and generate layouts, quotes, photorealistic renderings, movies, installation drawings, reconfigurations and bills of materials – in other words, everything needed to propose on work and place orders. CET Designer is the future of space planning. More information at www.configura.com/cet.
About AJ Products
Since 1975, AJ Products has been the leader in the office, warehouse and industry interior market. By combining design, innovation, manufacturing and working with handpicked partners, AJ Products offer a broad range of products that fits the need for all its customers. AJ Products' is headquarter in Halmstad, Sweden. AJ Products operates throughout 19 countries in Europe. More at www.ajproducts.com.
Newsroom
News archive