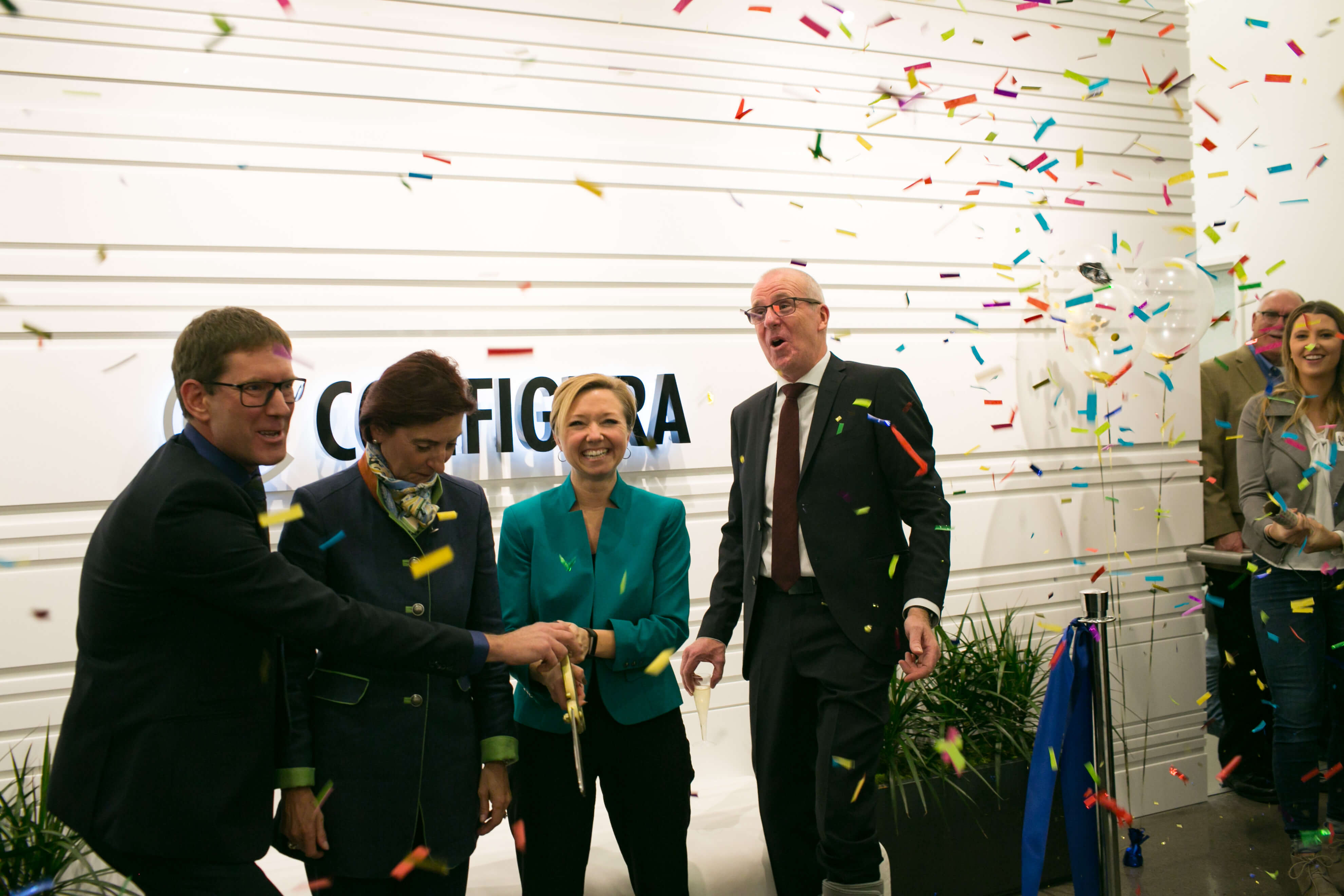 Configura celebrates with new, larger Grand Rapids location
Software company uses its own products to design new office space in downtown Grand Rapids
GRAND RAPIDS, MICH., USA—Nov. 2, 2017—Swedish tech company Configura, maker of CET Designer software, has expanded its Grand Rapids presence by moving into the top two floors of the Blue 35 building on Oakes Street in downtown Grand Rapids.
Configura's West Michigan team celebrated with a grand-opening event on Nov. 2 that included customers and local community leaders as well as executives from the company's Sweden headquarters and its two Asia offices.
"Grand Rapids – the office furniture capital of the world – is our second home," Configura CEO Johan Lyreborn said at the ribbon-cutting celebration in the new space. "We're proud to have a major presence in this city and to be close to the world's largest office furniture makers as well as manufacturers in other global industries. We've created a space that's a pleasure to be in –designed to attract and retain the best talent – a space that's great for productivity, interaction and relaxation for our employees and guests."
Founded in 1990 in Linköping, Sweden, Configura has had a Grand Rapids presence since 2006; from this location, Configura serves customers in North, Central and South America. The Grand Rapids location now employs 40 people. Worldwide, the company employs more than 160.
Since opening the Grand Rapids office, Configura has grown significantly and now counts Steelcase, Haworth, Herman Miller and other global office furniture manufacturers – plus thousands of designers and dealers – among its customers. Other industries served include kitchen and bath, material handling, industrial machinery and lab / healthcare. The company partners with a number of software firms, including West Michigan-based Open Systems Technologies (OST), to develop products for multiple markets.
Community leaders celebrate Configura's growth
City of Grand Rapids Mayor Rosalynn Bliss joined Configura for its Nov. 2 open-house celebration, which included demos of its software, virtual reality technology and developer tools.
"We are pleased that high-tech, high-growth companies such as Configura have made Grand Rapids their home," Mayor Bliss said. "These companies are important to our local economy and they provide excellent job opportunities for our residents. It's great that Configura has decided to stay downtown and remain a part of the exciting growth that is taking place in the heart of our city."
For a decade, Configura's Grand Rapids team was based at 100 Grandville Ave. SW, also downtown. The new location, just a few blocks away in the Blue 35 building, nearly triples Configura's office space to more than 12,000 square feet.
"Our Grand Rapids team has grown so much that we had to find more space, and, after seeing the Blue 35 space, it felt right. It felt like Configura," Vice President of Business Development Peter Brandinger said.
A native of Sweden, Brandinger led the team that opened the original Grand Rapids office more than a decade ago. In the early 2000s, the company – seeking to establish a North American presence – had zeroed in on the Midwest, looking at locations in Wisconsin, Illinois and Michigan.
Birgit Klohs, CEO of The Right Place, was key in helping Configura choose Grand Rapids for its North American location.
"Configura wanted to be in the heart of the office furniture industry, and of course West Michigan, the office furniture capital of the world, was the obvious solution. But they also wanted to grow into other industries. We convinced Configura that Grand Rapids would be ideal with our business-friendly environment, local talent pool and incredible quality of life," Klohs said. "Configura has thrived here, and we congratulate them on their successes."
Configura used its software to design the new space
Configura designed its new space using its own space-planning software, CET Designer.
Kendra Steinhaus, the lead designer on the project, began the process with "design charrettes," which gave Configura employees the opportunity to create a space they would want to work in.
"Although we're the developers of CET Designer, it's not every day that we use the software ourselves to design and bring an entire space to life. Using CET Designer to create our new office space helped me see how our users experience the software," Steinhaus said. "It was especially powerful to use CET Designer during the charrettes, because it enabled real-time collaboration. As I designed, my colleagues immediately could see the office space being created and coming to life."
The top floor of the new space houses marketing, sales, human resources and finance, as well as a large communal kitchen and relaxation area. The floor just below includes research and development, and training and support functions. A large staircase adjoins the two floors and encourages employees to get up and walk around. Windows are on all sides of the building and nearly every desk area is "open concept" – so no matter where one sits, the outside is visible and natural light streams in. Almost all of the desks are height-adjustable to encourage movement.
Nearly all of the office furniture manufacturers that Configura counts as customers have products in the company's new space.
"We of course wanted to honor our customers by using their furniture in our office," Steinhaus said.
Beyond office furniture, the large communal area includes a full kitchen with a huge island, plenty of soft seating, a pool table, a ping-pong table, a popcorn machine, darts and a shuffleboard. A "quiet room" is available for taking quick naps and for nursing mothers. A rooftop deck is available for entertaining and as a place for employees to relax outside in nice weather. From the rooftop deck, the Configura sign is visible atop the Blue 35 building.
"People need opportunities to step away from their work. They need fresh air and private spaces. And they need places to connect with one another – we designed the new office to meet these needs," Steinhaus said.
Configura's new space was also designed to accommodate many visitors, including from headquarters in Sweden and from the company's Malaysia and China offices as well as CET Designer users and developers in town for training sessions.
Large meeting rooms and several smaller, private spaces are located throughout the office. Each room is named for an historical figure who was a designer, inventor or pioneer of sorts (for example, one room is named after Frank Lloyd Wright; another after Amelia Earhart). Technology is built into the walls, and rooms can be reserved from any Configura location in the world.
Steinhaus, who grew up in West Michigan and studied interior design at Michigan State University, also oversaw the design of Configura's new corporate headquarters in Linköping, Sweden, and created the design standards for company's Malaysia and China offices.
Each Configura office around the globe reflects the Configura brand – a welcoming spaciousness with a nod to the Swedish culture and design aesthetic.
"This move has been such an uplifting decision for Configura," Brandinger said. "We love the excitement of downtown Grand Rapids, and we're proud of the energy that Configura brings to the city."
Newsroom
News archive