Programmed for Design
Configura software is photo realistic, so the office space looks like it will when built out, complete with the proper fabrics and finishes.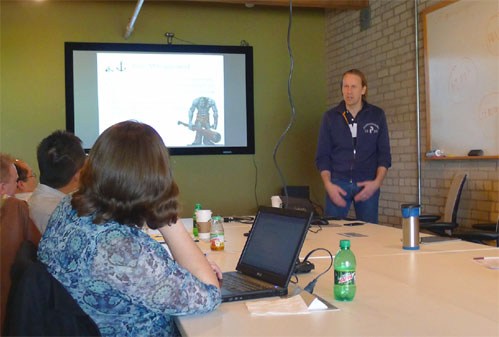 Mountain Dew seems to be the fuel that keeps computer programmers running, so it was no surprise to see the conference room at Configura's U.S. headquarters in Grand Rapids littered with the highly caffeinated green cans and bottles. Goran Rydqvist, one of the founders of the space planning software company, had just led a group of computer programmers though a seminar that would help them use Configura's CET Designer to its maximum potential.
The programmers around the table included many of Configura's largest manufacturer customers like Steelcase and Haworth. Each of the companies and many of their dealers run customized versions of CET Designer and Rydqvist was in Grand Rapids from the company's headquarters in Sweden, helping them make the most of what Configura has to offer. Rydqvist invented the programming language and the basic Parametric Graphical Configuration model that provides the underlying structure for all Configura does. PGC makes it easy and intuitive to use CET Designer. It does not take much to get Rydqvist started on the benefits of PGC. To say he is a PGC evangelist is not overstating his passion for what he and his team of developers have designed.
To the uninitiated, the technology provides information concerning how the different parts and pieces (in our industry, office furniture) can be combined, what their relationship is to one another and which limitations exist. In addition, the PGC software automatically calculates and provides costs, specifications and other information necessary for production, assembly and ordering. And it does it in a way that is so easy and seamless that anyone can use it.
So you will have to excuse Rydqvist for his passion, which was on display last week as the company held its Manufacturers' Roundtable Meeting and Developers' Conference at its North American headquarters in Grand Rapids. "What is the foundation of the Configura idea?" he asked participants at the Developers' Conference. "Most software is overly complicated and would not fit our purpose."
Configura's fight is similar to what Apple faced before its recent surge of popularity: People like using Configura's products, but they are used to working in different systems, including some that are seemingly more complicated to use. Rydqvist believes the PGC model is superior. Here's why:
Imagine a dealer salesman at a customer meeting. Instead of pulling out a sketch pad, he pulls out his laptop. Using the Configura software, the salesman draws in walls, desktops, task chairs, file cabinets. The Configura software is photo realistic, so the office space looks like it will when built out, complete with the proper fabrics and finishes. It looks slick and helps the salesman land the deal. But the power of the software is really behind the scenes. All documentation is created automatically and is continuously consistent and up-to-date. With the push of a button, the software can send the order to the manufacturer for production.
PGC is easy to use because it is so visual. Users pull graphic symbols into the space that actually look like the product they are specifying. A company might have thousands of items in its product range, but Configura software simplifies all of it.
Though it is easy enough for a salesman to use, CET Designer was not created to replace the interior designer function. It simply provides another tool to make it easier for dealers to secure projects and communicate the details of those projects with its manufacturers. "PGC really makes that chain (between the dealer and manufacturer) complete," Rydqvist said. "It gets rid of the obstacles in the back end."
PGC allows programmers to do what they do best -- program -- and removes the need for programmers to do what they tend to do poorly -- act as interior designers. Still, Configura and PGC allows for and encourages creativity from the programmer, with the driving force being how the designers work and how the programmer can make that job as efficient as possible. "All of us have to fight to create PGC and not allow it to become data loading. The code has to be beautiful too," Rydqvist said.
PGC should be quick and effortless to use, he said. Common tasks must be automated and the technical aspects of the product hidden. The sales process should be streamlined and errors eliminated. The user should be able to control the program through a single mouse button and through direct manipulation. Gestures should be intuitive.
There should be a minimum of flipping and flopping of images and slow and unresponsive operations should be eliminated. "I hate all the hierarchy of dialog (boxes)," Rydqvist said. "It disrupts the flow and makes it hard to understand if you are not a programmer."
Rydqvist encouraged the programmers gathered to be more like children -- playful, experimental, explorative. He said programmers should make discoveries through trial and error and role play.
In many ways, Rydqvist was preaching to the choir. Programmers seem to intuitively understand the power of PGC, but one of the frustrations among Configura executives is that the many top managers at manufacturing companies do not get it. "One of the fundamental problems with PGC is that it takes 'touch and feel' to understand it," he said. "If you have never used it or experienced it, it is going to be hard to understand the fundamental coolness of it."
Newsroom
News archive